concert review
:
Wilco
w/
The M's
@
Massey Hall
(Toronto, Ontario), July 7, 2006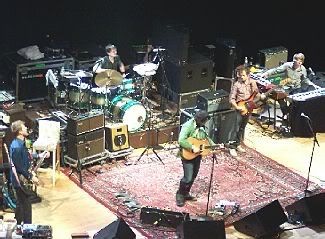 It's not often that a band frontperson calls me a 'motherf!*cker' and I ignore it. But when Wilco's Jeff Tweedy called the audience at Massey Hall this past Friday night 'motherf!*kers' for the lack of energy amongst the seated crowd it was all with the best intentions. Of course, it's hard for the crowd to act like it's a rock show when firstly, the band starts off the show with a series of mellow-to-languid tempo numbers and secondly, Mr. Tweedy barely acknowledges the audience with a greeting until well into the set. I for one could have gone most of the show remaining seated and still have enjoyed the show immensely(like their
last show at Massey Hall on October 9, 2004
), but I am grateful for Mr. Tweedy for the 'invitation' to us to act like it's a rock show because it got everyone to stand up(even motivating some people in the floor seats to get up and crowd towards the front of the stage) and become part of the show. The energy level in Massey Hall rose immensely and as result it made me enjoy the rest of the show even more. For the record, Jeff(hobbling around with an injured foot in a cast) did apologize for calling us all 'motherf!*kers', and of course mentioned the politeness of Canadians and had he known, he would have invited us to participate in the show earlier. The whole incident was just very humourous to me and one of those concert experiences I think I'll remember for a long time. With a setlist culled mostly from "Yankee Hotel Foxtrot" and "A Ghost Is Born" with a couple of new tracks and some older tracks, it was a satisfying selection. While "A Shot In The Arm" and "Via Chicago" were the only "Summerteeth" tracks represented, I thought that they were a couple of the most vital and emotionally resonating performances of the night. The punctuated instrumentation and lyrical repetition of 'Nothing' during "Misunderstood" was glorious. The playful "Hummingbird" was a delight. The groove of "Jesus , etc." was amazing as I saw a sea of heads down on the floor bobbing in unison. The most monumental moment of audience participation was during "Kingpin" as Jeff got us to scream at the top of our lungs every time he sung the lyric 'How can I'. A bunch of songs featured some extended noisy outros that I enjoyed but will state for the record I couldn't say the same for a few of my companions in tow. In this respect, maybe it would have been better that I tried converting my friends to Wilco through their albums rather than their live show.
The
setlist
below is via a fan post over at
Via Chicago
:
(Main Set)
There's A Light[new song] | I Am Trying To Break Your Heart | Handshake Drugs | Impossible Germany[new song] | A Shot in the Arm | At Least That's What You Said | Misunderstood | Wishful Thinking | Airline To Heaven | Hesitating Beauty | Walken (Talking To Myself About You)[new song] | Theologians | I'm The Man Who Loves You | Jesus, etc. | Hummingbird
(First Encore)
War on War | The Late Greats | Heavy Metal Drummer | Kingpin
(Second Encore)
Via Chicago |Spiders (Kidsmoke)
Overall, it was a terrific show that got off to a subdued start but ended with a bang. [Sorry, I don't have much to say about openers The M's since I only caught a couple of songs. The instrumentation had a certain crunchiness which I enjoyed but the melodicism wasn't quite there. Perhaps the rest of their set was better. Anyone?]
Update
:
Chromewaves
has his photos and review of the show up now.
theplot
has some
photos
from the show and also provides us with a
video clip download
of "Jeff's little speech about participation and Canadian politeness."
Jam Showbiz
reviewed the show.