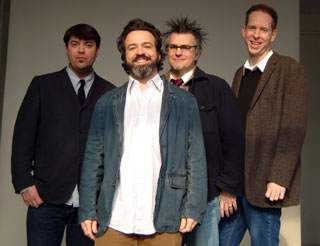 There's a a new
Pernice Brothers
song[mp3] entitled "Somerville" plus its music video available for download over at the band's website. Go
here
(signing up for their e-mail list is required). The song is from the new Pernice Brothers record "Live a Little" due out in the fall of 2006. The song leans towards a slight country-rock vibe in some of its guitar parts especially which harkens back to
Scud Mountain Boys
in my opinion. Whoa, fantastic song![photo via
indoor fireworks
]
A Soundtrack for Everyone
reminisces about his early live exposure to
The Dears
, points the way towards mp3's of songs from the new album, and mentions that the new Dears album "Gang of Losers" will be released through
Arts & Crafts
in August. That last piece of info is a welcome surprise!
Correction
: I stand corrected: A & C will be releasing the new Dears full-length in the USA only, like they're doing for The Hidden Cameras new album "Awoo".
The New York Times
ponders the state of alt-country[via
The Rich Girls Are Weeping
].
Chromewaves
examines this from his own perspective.
Stage Hymns
has a download of
Band of Horses
performing their song "Funeral" from their July 13, 2006 appearance on Late Night With David Letterman.
Update
: Here's
YouTube video
of the performance.
Muchmusic
reported that
Lupe Fiasco
,
Muse
,
Wintersleep
,
Matt Mays & El Torpedo
and
The Diableros
have been added to the
V Fest
lineup. The V Fest website is updated with this info as of today.
Rumours
over at
the 905 Board
mention something about
Radiohead
and
Beck
possibly being added to the lineup. Remember these are only rumours. But exciting ones.
Dan Burke over at
Stille Post
lists a whole bunch of shows lined up for The Silver Dollar in the coming months, including shows by
D'Urbervilles
,
The Old Soul
,
Andre Ethier
,
Frontier Index
, and
The Creeping Nobodies
among others.