concert review
:
Camera Obscura
w/
The Diableros
@
Horseshoe Tavern
(Toronto, Ontario), July 4, 2006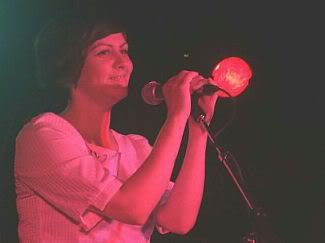 Kicking off their current North American tour this past Tuesday night, Scottish indiepop band Camera Obscura were in Toronto at Horseshoe Tavern playing to a sold-out crowd. Opening things up nicely were Toronto's own The Diableros performing their inspired brand of fuzzy, melodic, indie rock. I last saw them perform live at their indie CD release show at Sneaky Dee's
last November 2005
and since then press on the band's been gaining momentum, most recently being a
Pitchfork
-approved review for their debut album "You Can't Break The Strings In Our Olympic Hearts". The Diableros have also been playing a lot of shows and opening for a lot of artists. While The Diableros show last November at Sneaky Dee's was thrilling from first song to last, I couldn't help but feel that The Diableros performance yesterday was a little deflated. They performed a bunch of new tunes(well, songs I didn't recognize) and of course songs from their debut album. I don't have much else to say about their set yesterday, but I still hold them in high regard as one of Canada's finest bands right now. If I weren't already going to the Wilco show at Massey Hall this Friday night, I would go to see The Diableros at the
Beating Heart Festival
free show in Mississauga.
I've been listening to Camera Obscura's latest offering "Let's Get Out Of This Country" a lot and I was almost convinced that they were a better band than
Belle and Sebastian
(the band they are most often compared to). While I still love B&S, I'm not afraid to admit that I'm not totally smitten with their most recent dabbles in northern soul. On the other hand, what's made Camera Obscura so consistently enjoyable is their devotion to a melodic sensibility, even as the band's sound dips in to other influences like Motown and country.
So after seeing Camera Obscura in concert I realize that they're neither better nor worse than B&S, but instead quite different musically. I will say that Belle and Sebastian are a much better live act, insofar as having an enigmatic frontman in Stuart Murdoch. Camera Obscura are far more reserved. If Camera Obscura's pure pop perfection wasn't so tantalizing, I'd be far more critical of their reservedness on stage. Still, their was just enough enthusiasm[stage banter, smiles] from frontwoman Tracyanne Campbell to hold the audience's attention. (As an aside, is the dowdy house dress which Traceyanne was wearing some new fashion trend, because
I remember Victoria of The Concretes wearing something similar during The Concretes recent show in Toronto
?) The band performed a selection of tracks from all three of their albums including favourites "Eighties Fan", "Suspended From Class", upbeat new ones like the thrilling pop of "Lloyd I'm Ready To Be Heartbroken" and the Motown-ish "If Looks Could Kill" and more mellow offerings like "Tears For Affairs" and "Let's Get Out Of This Country". With simple but immaculate pop instrumentation with a dash of trumpet, glockenspiel, and percussive instruments on a song or two, the most oustanding musical element was Tracyanne's lovely vocals. It's somewhat redundant to review this show in any more detail than for the sugary pop rush that it was, so I'll end this soon. There was an enthusiastic response for each and every song the band performed, and in particular, the sold-out crowd(well at least me) were quite smitten with the very-cute ladies of Camera Obscura, Tracyanne and keyboardist Carey Lander. One lucky fella caught the flower that Tracyanne threw into the audience and which had originally been given to her by another fan as Tracyanne couldn't bear the fact that the flower would die on the tourbus. Overall, a very satisfying evening.[
PHOTOS FROM THE SHOW
]
Update
:
Chromewaves
has a review and photos from the show too. And thanks to
basic sounds
for pointing to a
short video clip
from the show.