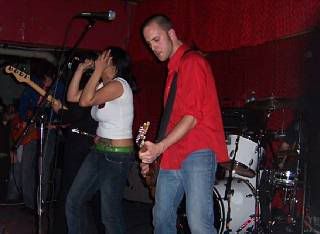 controller.controller
performed a live session for Montreal campus radio station,
CJLO
, yesterday. Unfortunately, the session has not yet been archived, but a post over at
stillepost
says that you can check out the band's
live session they did for the station back on October 30, 2004
. Download
mp3's
of 3 new songs including
"PF"
,
"Poison Safe"
, and
"City of Daggers"
, plus older favourite
"Disco Blackout"
. The band with openers
VHS or Beta
are playing
Lee's Palace
tonight, and yes I will be there! [
note
: The photo at left is actually one I took of them at a show in Hamilton, ON at
The Underground
back in
December 2004
]
Stars
will be live at the
Edge
Studios tomorrow July 21st at 6:10 pm for an interview with Dave Bookman. Stars are playing one of those
"Next Big Thing"
concerts tomorrow at
The Drake Hotel
, for which you'd need to have won tickets from the radio station in order to attend. Which counts me out. Staines, West London, England band
Hard-Fi
are openers. Oooh, it's killing me right now.
More bands have been added to the
lineup
for the inaugural
Ear To The Ground Festival
happening in September at
Exhibition Place
. It's going to be hot!
There are still some holes to fill, but the
Stage Schedule
for this year's
Taste of the Danforth
is now up. The 9:45-11:00 pm slot on Friday August 5th, the 8:10-9:00 pm slot on Saturday August 6th, and the 6:30-8:00 pm slot on Sunday August 7th are still to be announced.
The Lowest of The Low
will be playing the headlining 9:30-11:00 pm slot on August 6th. Country rocker
Mike Plume
performs the 5:00-5:40 pm slot on August 6th. Toronto singer-songwriter
Royal Wood
will perform the 3:50-4:40 pm slot on August 7th. Oh and if you like Greek music, there'll be
alot
of Greek music.
SHOT
says you can stream
Cuff The Duke
's new self-titled album over at their website. The new album will be released July 26th. Also available over at the website is an
mp3 download
of one of the new songs called
"The Future Hangs"
. Check the site in the future for more mp3 downloads. In addition to the
Soundscapes
instore scheduled for July 26th which I mentioned a couple of days ago, the boys also have some new
tour dates
including one in Toronto at
Lee's Palace
on September 9th.
Download a
torrent
of a a live FM broadcast of
Feist
performing in Berlin, Germany on November 11, 2004.
How about a
torrent
of a live show by
The New Pornographers
performing at the
400 Bar
, MN on 02/08/02.
Or else here's a
torrent
of a DVD recording of
The Arcade Fire
performing at the
Hollywood Bowl
on June 26, 2005, including their duet with
David Byrne
on
"This Must Be the Place (Naive Melody)"
.
Popmatters
speaks with indie-country artist
Laura Cantrell
. Coincidentally, after having purchased a used copy of Ms. Cantrell's
"Not The Tremblin' Kind"
a month or two ago, I finally got around to listening to some of it yesterday. Now if only her
tour
would come to Toronto.