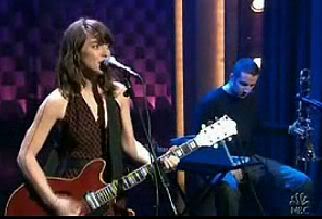 Maybe it's the handclaps, the added trombone, the recorded-off-the-floor drumming, the purring keyboards, or the camera closeups but
Feist
's performance of
"Mushaboom"
on
Late Night With Conan O'Brien
was the BEST performance I've EVER seen of that song. I finally got to see it over at
Feist
's official website under 'Videos'. My search for a torrent of a high quality video clip of the performance continues. High-speed internet users can download WHOLE Conan O'Brien shows over at
Conezone
according to a commenter over at
From Blown Speakers
, including the show(July 7, 2005) that Feist appeared on. If you don't happen to catch the hyperlink to the download, the show's likely been uploaded to the ftp archive.
Watch
Martha Wainwright
's new video for
"When The Day Is Short"
over at her official website.
Sloan
speaks to
chartattack
about opening for
Foo Fighters
on their upcoming Canadian tour and his total ineptitude for giving career advice(heads up,
Feist
reference!).
chartattack
also catches up with
The Hidden Cameras
' Joel Gibb about the new album
"Awoo"
which should come out in February or March of 2006, as well as the newly released 7-inch on Gibb's record label
Evil Evil
which contains lo-fi, four-track demos of songs that'll appear on the new album.
Pimps of Gore
spotlights
Uncle Tupelo
with a generous helping of live
mp3
's for your downloading pleasure.
Pimps of Gore
goes on to say
"I wonder if they'd ever consider releasing their final concert on CD. The bootleg -- a fantastic soundboard recording from their 5/1/94 show at Mississippi Nights in St. Louis -- has been floating around for years. Video footage has also been spotted, and recently a fan dubbed the sound from the CD over the lackluster audio for the original film."
Anyone know where I could obtain either or both of these artifacts?
Pollstar
's known for bouts of inaccuracy. Anyone think the listing for
The Constantines
playing with
The New Pornographers
at
The Docks
in Toronto on October 9th is a mistake? Pollstar is also saying that The Constantines are suppose to play dates with The New Pornographers in Philadelphia(Oct 14th) and Atlanta(Oct 17th) as well. I won't hold my breath that these dates are actually correct.
Yesterday, I didn't have the strength to either check out
Kaki King
in Hamilton or
The Deadly Snakes
' midnight set at the
Horseshoe
in Toronto so I just stayed in. Like
chromewaves
, it's a bachelor party weekend this weekend, only for me it's for a friend of mine and it's scheduled for today, including some paintballing, then dinner, and finally the usual evening bachelor party mischief. See ya Monday.