concert review
:
Broken Social Scene
, part of
Celebrate Toronto Street Festival
opening celebrations @
Yonge-Dundas Square
(Toronto, Ontario), July 08, 2005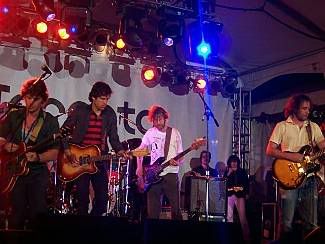 This past Friday night, the opening celebrations of the
Celebrate Toronto Street Festival
occurred with a free concert lineup down at
Yonge-Dundas Square
. I got down to the Square around 9pm as
Great Big Sea
were performing the last few songs of their set. You'd have thought they were the headliners of the night as the sea of people stretched across the Square all the way to the Eaton Centre. Even if I'm not a fan of their music, the crowd seemed to enjoy them. When Great Big Sea's set ended, I made my way slowly towards the stage and ended up towards the left side of the stage about 5-10 feet from the fenced-off VIP section.
As the sun went down, the roaming street theatrics of
Les Girafes Urban Operetta
took over. From a distance, it was visually quite majestic seeing the herd of towering red giraffe creations(manned by two persons, with one person on stilts) traverse the street around the square towards the Eaton Centre then back towards the centre of the Square where the majority of the Operatta took place. Against the backdrop of an avant-garde, ramshackle musical score, it was actually quite interesting. According to this
press release
,
"the music samples primitive and electro-acoustic sounds varied with traditional folk music, European waltzes, African, techno and circus and even samples from Michael Nyman's Drowning by Numbers."
Yes,
I'll agree with
some of you
that it went on way too long. Maybe I'm just not an opera fan, but the operatic part of the performance was kind of cheeseball. And the male opera singer's insane vocal outbursts of
"girafes!"
was just weird.
During Les Girafes Urban Operetta's performance, I managed to make my way almost to the fence of the front-stage VIP section. In preparation for Broken Social Scene's set, the staff started clearing out the folding chairs in the VIP section and my guess was that they might be letting people in. Yes, I was correct and fortunately I was one of the lucky ones to make it into the VIP section! Every thing after that was gravy. Yeah, Broken Social Scene only played maybe half an hour or so but I was so close to the stage that the performance felt longer. They played some of my favourites like
"Cause=Time"
,
"Pacific Theme"
,
"KC Accidental"
and a soon-to-be favourite
"Superconnected"
which I hadn't heard them perform since I saw BSS last summer twice, at Olympic Island then Harbourfront. The only disappointment was the exclusion of
"Anthems For A Seventeen Year-Old Girl"
especially with the surprise appearance of
Stars
' Amy Millan who was in the house. Also in attendance were Stars' Torq Campbell and Evan Cranley, who along with Amy, all had just come in from a flight from Stockholm, Sweden. I appreciated Evan's great trombone playing especially on
"Pacific Theme"
. It was nice that they could make into Toronto especially for the show.
During the show, I happened to be standing near a couple of moms and their young daughters and this show was apparently the girls' first rock concert. How cool is that? A couple of the girls even managed to snag a couple of the band-autographed parking tickets(!) which Kevin Drew was handing out to the crowd. I told 'em to hold on to those autographs because maybe they'll be worth something one day. Too bad the show couldn't go on longer due to the 11 pm city-imposed curfew but hey, for a free show and me being up near the front, it couldn't have gotten better than this. [
photos
]
:
:
The Big Ticket
has a
video
which he took of
Feist
performing an acoustic version of
"Inside and Out"
at her solo show at
Varsity Theater
in Minneapolis this past Friday July 8th. Check out his lovely photos from the show as well.
For a limited time only,
From Blown Speakers
has available an
mp3
of Feist performing
"Mushaboom"
live on
Late Night With Conan O'Brien
on July 7, 2005.
A
torrent
is available of a
video recording
of
Death From Above 1979
's March 11, 2005 performance on
Late Night With Conan O'Brien
. Also available is a
torrent
of an
audio recording
of DFA 1979's show in Hamburg, Germany on July 2, 2005.
A couple more
New Pornographers
' live shows have turned up through
dimeadozen.org
including:
-
@ Abbey Pub, Chicago IL, 2002-23-02
-
@ Cat's Cradle, Carrboro NC, 2003-08-27
Frog Eyes
with
Xiu Xiu
and
Yellow Swans
will be playing in Toronto on September 8th at
X-space
. Check out
Kork
for the rest of the lineup's tour dates.
Also from
Kork
,
Saturday Looks Good To Me
have also announced some new tour dates. There are some TBA's listed for September 13, 14, and 16 and the tour dates announced so far are all on the east coast, which makes Toronto a definite possibility.
Lastly, a friend and I made it out to the
Beats, Breaks and Culture
festival at
Harbourfront
yesterday evening to catch
Quantic Soul Orchestra
's set at the CIBC stage before catching one song of
We Are Wolves
at The Brigantine Room. I was hoping to see
OutHud
's set, but we got there late. The James Brown-influenced/Acid Jazz grooves of Quantic Soul Orchestra were good and their female vocalist had a great voice but I didn't really find them outstanding. The punky-electronica of We Are Wolves fared better with me but my friend and I left after one song. I wish I caught more of the festival, especially the screening of the documentary
"Moog"
[I know it's on
DVD
, but it would have been cool to see it on a big screen].
Lal
played The Toronto Star stage this afternoon but I missed that also, although I plan to catch 'em when they play a free show at the
Yonge-Dundas Square
on August 12th.
Phew, this was a long post. Expect the lean-and-mean approach this coming week.