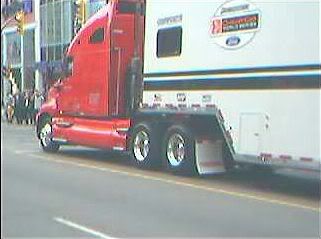 The
Molson Indy
goes down this weekend(July 8, 9, 10) in Toronto at
Exhibition Place
. During my lunch break while I was walking south on Yonge St., the party got started with a seemingly-impromptu convoy of big rigs(transporting the Indy cars) driving down Yonge St. I won't be going to the Molson Indy, but I just needed an excuse to post my first
camera-phone
photo[Unfortunately, I wasn't fast enough on the draw to take a photo of the Molson Indy girls. ;-) ]
According to
Pitchfork
, stores that have the new
Sufjan Stevens
CD
"Illinois"
(with the original Superman cover) will be permitted to sell those copies but unfortunately once they are out of stock, stores will not be able to order more from
Asthmatic Kitty
. The album with the revised cover will likely be released around August.
The Big Ticket
has images of both the original cover and the revised cover as well as an
mp3
of
"The Man of Metropolis Steals Our Hearts"
for your downloading pleasure.
If you're lucky like me, you'd have noticed today that the downtown Toronto locations of
Sam The Record Man
and
Sunrise Records
both had a bunch of copies of Sufjan's new album with the original artwork. [The downtown
HMV
only had 1 copy this morning]. Of course, I had to buy it right away. Anyone else snag a copy?
A
torrent
of
Broken Social Scene
's set from
Olympic Island
on June 26, 2005 is available through
dimeadozen.org
. [link from
Largehearted Boy
]
Just browsing the
dimeadozen
torrents tonight, and there are several torrents of live shows from
The New Pornographers
that have just been seeded including:
-
@ Richards on Richards in Vancouver on June 21, 2001
[torrent also includes bonus CBC Radio Radiosonic live session from 2000]
-
@ Island Festival in Oslo on August 9th, 2002
-
@ Echo Lounge in Atlanta on August 28th, 2003
MPR: 89.3 The Current
has archived the live session
Bob Mould
performed for them yesterday. Songs performed include
"Hoover Dam"
,
"Paraylized"
,
"I Apologize"
and
"See A Little Light"
. Be sure to listen to the interview portion of the session when Mr. Mould talks about blogging. Of course, you can read his
blog
.
Some upcoming local shows at the
Horseshoe Tavern
of note include the
Three Gut
5th anniversary party(and I guess 'retirement' party) on August 19th and the
Carolyn Mark
CD release party on August 27th. Ticket info for both shows TBA.
Just a reminder for tomorrow night that
Feist
will perform live on
Late Night with Conan O'Brien
. Also tomorrow night, Toronto soulstress
Esthero
will perform live on
Jimmy Kimmel Live
. [info from
The Late Night TV Page
]
Download
for free,
The Flaming Lips
soundtrack to
"Fearless Freaks"
. [link from
Brooklynvegan
]