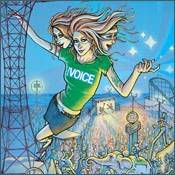 Brooklynvegan
,
Out of Focus
,
One Louder
,
The Problem of Leisure
, and
heartonastick
[check out the photos of
The Dears
] have a rundown/photos of day one of the 2005
Siren Music Festival
while
Spablab
,
Dip Dip Dive
,
The Problem of Leisure
,
You Ain't No Picasso
, and
Kirstie
[check out the
Broken Social Scene
photos] chime in on day one of the
Intonation Music Festival
in Chicago. Both festivals are happening over this weekend.
One Louder
had a
Siren Music Festival
-themed post yesterday and linked to audio treats of some of the artists playing the festival you may have not heard of yet. I keep reading that
Morningwood
is going to be big.
Download a
torrent
of a live show of
Feist
at this year's Montreal Jazz Festival. [thanks to Blane over at the
Arts & Crafts Broken Telephone
forums]
From Blown Speakers
has an
mp3
download of
Broken Social Scene
performing
"Major Label Debut"
during an
XFM
live session.
Yesterday was a friend of mine's bachelor party. It was a cloudy yet still sweltering, smoggy day and first on the agenda was some paintballing.
I've gone paintballing once before
in an outdoor environment and had a blast. This time it was an indoor facility with no air conditioning and the visibility was too dark. After two hours, we'd had enough. BTW, I took a direct paintball hit in the chest, and even with coveralls on I still got a minor bruise the size of a chestnut. There was a good turnout for the dinner portion of the bachelor party, which was at a great Chinese buffet restaurant. I bet you can guess where we went after to dinner to end the festivities.