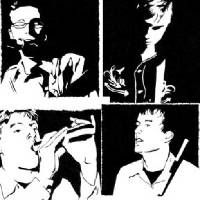 Teenage Fanclub
's show at
The Mod Club
in Toronto yesterday was awesome, but it'll take me at least another day to sort out my photos and write up my usual review. When did
"Bandwagonesque"
, my first foray into the world of Teenage Fanclub, come out?
"1991"
, you say. Wow, and about 14 years later, I've now seen them live for the first time. I'm feeling old. But on to today's links(while I go ponder the meaning of life.)
;-)
Interpol
will be back at
Kool Haus
in Toronto on September 28th for an all-ages show. Tickets, $30.00, onsale July 30th at 10 am through the regular outlets.
Kool Haus
? Well at least it's not
The Docks
. I' still not gonna go though. [ticket info from
rootmeansqueare
]
Scotland's cow-punks
Sons and Daughters
will be playing
Lee's Palace
on September 5th!!!!!! Tickets are only $9.00!!!! Onsale at the usual outlets on July 27th. [info from
Lee's Palace
]
Mocking Music
examines the
C86
scene as both a genre of music(indiepop) as well as literally a cassette collection of tracks of indie artists at the time(1986, in Britain).
Mocking Music
also has links to mp3's of all the tracks that were compiled on the C86 cassette which had been given away free with an issue of
NME
back in 1986.
Thanks to
Largehearted Boy
for pointing out that
Arcade Fire
fansite
Us Kids Know
has a
bittorrent tracker
for the band's live shows and rarities. Sign up and browse the shows available. And if ye taketh, please shareth.
Just a reminder,
Cuff The Duke
,
Soundscapes
instore, today 6:30 pm. Save me a spot near the front. Yes, the boys' new
self-titled album
is out today, and I believe you can buy it today at Soundscapes for $9.99. Run, don't walk. [top photo from
http://../
]