concert review
:
Kid Koala
, part of
Dim Sum: Sampling Contemporary Chinese Culture
@
Harbourfront Centre
(Toronto, Ontario)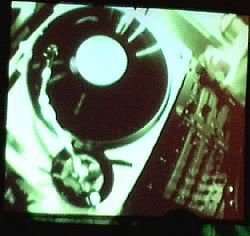 In advance of Kid Koala's
Harbourfront
show this past weekend which was part of the
Dim Sum: Sampling Contemporary Chinese Culture
festival,
The Toronto Star
[
Bugmenot
] profiled the DJ who's been causing waves in the music scene, both on these shores and abroad. After having seen Kid Koala perform at
Harbourfront
this past Saturday, I can see why Canada chose him back in 2004 to go to China as part of a Canadian embassy-sponsored tour. He's the personification of Canadian modesty and at the same time an illustrious example of our Canadian music talent. Or as was stated by Francis Acquarone of 010 Productions in
The Toronto Star
article,
"Eric[aka Kid Koala] is a great ambassador for Canada."
It was perfect timing that my friend and I got to
Harbourbront
just a minute or two before Kid Koala was announced onto the stage. It was probably one of the higher capacity crowds I've seen this year at
Harbourfront
. There was a four turntable setup onstage, and the visuals were augmented by two video screens on either sides of the stage which gave us closeups of the main two turntables which Kid Koala manipulated. There was a great variety of influences heard during the set. The most popular tracks were the hip-hop flavoured tracks which featured crowd-pleasing samples from songs such as
Beastie Boys
'
"So Whatcha Want"
,
Tears For Fears
'
"Shout"
,
The Cure
's
"Close To You"
plus less familiar tracks from
A Tribe Called Quest
,
M.I.A.
[
"Fire, Fire"
] and
Bjork
. It was really mesmerizing to watch Kid Koala mix and scratch. During one jazz-influenced track, I couldn't fathom how he manipulated a record to sound like it was a horn solo. He dedicated his most serence version of his next track to his mom and said something along the lines that she never understood what he did until she heard his version of
"Moon River"
: her only question now was
"why?"
. Taking an old recording of a female-sung
"Moon River"
, Kid Koala deconstructed it and assembled it back, incorporating subtle scratches, echo, desolate guitar notes and other fun effects. At the conclusion of the song, he dedicated it to all the women over forty. :-) Touching upon his Chinese heritage, one of his tracks incorporated a Chinese folk melody with hip hop beats and scratches that hopefully pleased modern music fans and the old-country folk alike. Near the end of the set, Kid Koala displayed a closet(?) affectation for heavy-metal and hard rock, first starting with a speed-metal, mix-and-scratch embellished creation which then segued into a track which featured sampling from
Rage Against The Machine
. There were a couple of slower tracks which dragged on a bit and overall it was hard to tell how much the crowd was into the set but that ambiguity was answered by the crowd's enthusiatic chant for an encore after Kid Koala finished the set, walked off stage and the MC of the evening came back onto the stage. Thankfully, he came back onto the stage to play several more tracks[including a new track which he said he collobarated on with
Dan The Automator
and
Damon Albarn
] but only on the condition that if he's going to play more, people are going to have to dance. I couldn't tell if anyone up front was dancing but I could see alot of smiles on people's faces around me. If we weren't all as enthusiastic as that fan who had out-of-the-blue jumped up onto the stage during the set and hugged him, at least I think the feeling was mutual.
:
:
If
Juliana Hatfield
has
this much to say
about the state of her career, the making of the new album
"Made In China"
, the concept of selling out, and love and life in general, well then I can't wait to hear her new album. It should be a good one.
The New York Times
[
Bugmenot
] spends some time with
Feist
hanging out in Brooklyn. [link from
Largehearted Boy
]
I could't work up the motivation to drive to Hamilton last Friday night to check out the
Final Fantasy
/
Great Lakes Swimmers
/
The Rest
show at
The Casbah
. Thankfully
thompsmr
over at
stillepost
recorded Final Fantasy's set[
download
] including Owen's version of Mariah Carey's
"Fantasy"
[
download
]
For your downloading pleasure, a
torrent
of
Broken Social Scene
's set at the
Intonation Festival
in Chicago on 2005-07-16.
KEXP
broadcasted live from the
Triple Door
in Seattle this past Saturday to present a live session from
Sufjan Stevens
. The particulars of the event are as follows: Saturday July 23, 2005, 4:35 pm PST. Check out the session through KEXP's
streaming archive
by date and time. I listened to the session yesterday and the tracklisting was as follows[I am thoroughly looking forward to Sufjan's show in Toronto at Trinity-St. Paul on September 10th!]:
"Casimir Pulaski Day"
"The Tallest Man, The Broadest Shoulders - Part I: The Great Frontier ..."
"Prairie Fire That Wanders About"
"Jacksonville"
"Chicago"
"The Man of Metropolis Steals Our Hearts"
"John Wayne Gacy, Jr."