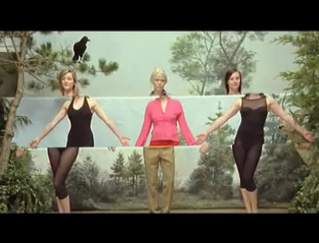 videos.antville.org
points the way toward the
new music video
(right click & save) for
The Concretes
'
"On The Radio"
. The video was directed by
Daniel Levi
who operates out of production company,
Independent
. Mr. Levi directed The Concretes' previous music video for
"The Chosen One"
as well as Interpol's
"Slow Hands"
. I haven't actually
watched
the new Concretes video since I can't install the most up-to-date version of Quicktime on my computer which is still running Windows 98, although I'm sure the video is great. Ok, I'm optimistic.
If you noticed my sidebar, I've updated my concerts list with the shows I will go to or am considering going to. It's filling up quickly. God, I love Toronto. I've been meaning to check out vibraphone-frinedly 'pop orchestra'
Hylozoists
for a while now and this time I'll try when they hit
Horseshoe Tavern
for a show on June 17th; tickets $8. I guess I'll be missing the show at
The Music Gallery
on that same day which'll feature Pedro The Lion's
David Bazan
; tickets $17.50.
Pitchfork
reports that Montreal DJ extraordinaire
A-Trak
will be hitting the road for a North American tour and will be in Toronto for a show at
Spin Gallery
on June 2nd.
Jason Collett
will be opening the
Calexico
show at
Phoenix
on July 6th according to
Pollstar
. Of course the show I'm most excited to see, and by this point you've probably already heard,
Wilco
will be at
Massey Hall
on July 7th; tickets onsale soon.
Pitchfork
reports that
Jesus and Mary Chain
's long out-of-print first five albums are being reissued by Rhino Records on DualDisc format on July 11th. The five albums being reissued are 1985's
"Psychocandy"
, 1987's
"Darklands"
, 1989's
"Automatic"
, 1992's
"Honey's Dead"
, and 1994's
"Stoned and Dethroned"
. The discs offer newly remastered versions of the albums on the CD side, while the DVD side features the albums in high-resolution audio format along with three music videos. I'd normally have been excited about reissues, but I'm not a big fan of the Dual Disc format, and I'd sooner want one DVD with all the band's music videos rather than have to buy the five Dual Disc reissues separately. Maybe someone will read this and fulfill my wish.
I'm completely excited about the news that
Filter
reports on
Phoenix
joining the
Arts & Crafts
family.
Their show at The Opera House on April 5, 2005
was damn good and I can't wait for them to return. [via
Chromewaves
]
Popmatters
reviews a recent
Metric
show and declares that
"...Metric's opening days are done."
Didn't we all know Metric were destined for stardom, expecially for a band with a website URL of
www.ilovemetric.com
?
I hate it
when shitty things
happen to
good bands
. The madness has to stop.