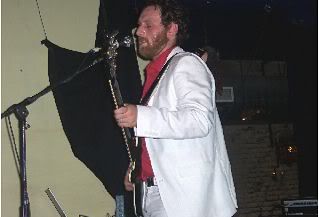 It's been a week since the Junior Boys/The Russian Futurists show at El Mocambo(on August 26, 2006). As I mentioned a couple of posts ago, I had scooted down to the show from the
The Hidden Cameras
show at Harbourfront, leaving at the start of The 'Cameras encore to get to the El Mo. Unfortunately, I'd missed most of
The Russian Futurists
' set. It's hard to put into words what the music reminded me of.
Orch-hip-pop?
Perhaps, they do at least live up to the 'Futurists' part of their name, because their songs simply sounded ahead of its time as in not sounding like anything I've heard before. Although I'd previously heard a few Russian Futurists tracks, I still found The 'Futurists' Matt Sharp's vocals unexpectedly peculiar(in a good way though, IMO). I feel guilty for the numerous times I've missed seeing this band live considering they're from Toronto. I will unashamedly admit that them being on UK label
Domino Records
was a kick in a butt for me to make an effort to see this band. According to their
MySpace
site they'll be performing at a showcase on September 13th as part of the
Toronto International Film Festival
, although it doesn't mention a venue.
Update
: According to this
press release
, The Russian Futurists play the Rivoli on September 13 at 2:40 pm. Read the press release for the whole lineup and schedule for
Canadian Music Cafe
which is a music showcase which coincides with the Toronto International Film Festival. The only problem is that it is only open to certain industry people.
Listen
:
The Russian Futurists @ MySpace
The last time I saw Hamilton, Ontario's
Junior Boys
live was at
Harbourfront Centre in July 2004
, several months before the release of their debut album "Last Exit". Over the past two years, they've gone from music blog obscurities to
Pitchfork
-
approved
items. I don't perceive their popularity as strong as other music blog favourites but they definitely have a strong cult following if the strong(if not sold out) turnout at the El Mo was any indication. All the criticisms I'd mentioned with their live show at Harbourfront in 2004 seemed to be resolved in 2006. They seem to be more confident performers, and their supple electronic blips and beats and melodies are much more suited to a dark club than an outdoor stage during the daytime. Jeremy Greenspan was dressed in white jeans and white suit, offset with a red dress shirt while his bandmate Matthew Didemus was dressed in white slacks and a white loose shirt. Filling out the band was a drummer, against the grain wearing a black leather jacket. Emblazoned in the background was a neon sign of the band name.
The show was a CD release for the new album "So This Is Goodbye" but thankfully there was a good mix of songs from the new one and their debut album "Last Exit". Here's the
setlist
, although I don't think this a complete list of the songs that were performed. It was a very danceable set overall, but if dancing wasn't your thing there was always the songs to fall back on as Jeremy's smooth, melodic, vocals and atmospheric guitar sounds melded quite nicely with the live drumming and Matthew's slick yet subtle beats. I can't fathom why they didn't play "Bellona" but that was my only disappointment musically. I was disappointed that they didn't have any more of the new album left for sale at the merch table. The guys are off on a
whirlwind tour
that takes them to the USA, western Canada, and the UK over the next several months, so do yourself a favour and catch their live show.
Listen
:
Junior Boys @ MySpace
basic sounds
has a few photos as well as a link to a YouTube video clip of the guys' show at El Mocambo from August 26, 2006.
Muchmusic
spoke to Junior Boys about
"'The Pitchfork Effect', Gilmore Girls & fitting into today's fast-paced music scene."
More interviews with the band can be found over at
Fact Magazine
[via
ghost of a flea
] and Boston's
Weekly Dig
.
Zoilus
profiled Junior Boys for
The Globe and Mail
[
Bugmetnot
].