concert review
:
Mates of State
,
Starlight Mints
,
The D'Urbervilles
@
Lee's Palace
(Toronto, Ontario), September 16, 2006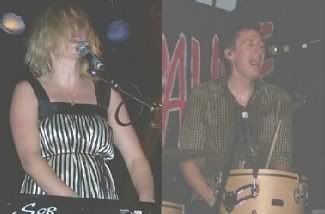 I have no introduction left in me for this blog post, so let's get to this. The night started out with the hyper-kinetic, slightly new-wavey rock n' roll of Guelph, Ontario four-piece,
The D'Urbervilles
. Setting the tone for the other bands who'd follow suit, they had their drumkit interestingly set up off to the right of the stage. Drumming for the band was the drummer of fellow Guelphites,
We're Marching On
. Of the two openers, The D'Urbervilles were more successful, and if those in attendance weren't already familiar with them then people definitely took a shone to them. It's quite accomplishment that a bunch of non-descript-looking Canadian boys in their jeans and t-shirts can conjure up such spastic energy, translated mostly through the jerky body movements of lanky frontman John O'Regan. A surprisingly healthy crowd was onhand for them and the crowd(or at some of the crowd) were definitely responsive with handclapping, dancing and head bobbing. The band has a few shows sprinkled through September and October including an opening set(for
controller.controller
and
You Say Party! We Say Die!
) this Friday September 22 at Horseshoe Tavern.
Polyvinyl artists
Starlight Mints
from Norman, Oklahoma followed. The five piece(4 gentleman and 1 female) played a brand of 60's inspired psych-pop that was less of the
Elephant 6
school of melodicism and a little more art-rock, with a dabble of "The White Album"-era Beatles quirkiness. Female member Marian Nunez stood out obviously for being the only female of the band and was more than competenet with her keyboard and flute arrangements as well as for her background vocals which at one point she utilized a megaphone. I also found the drum sound heavily emphasized at times, simple four-four rhythms that I'd normally find boring but actually complimeted the guitar arrangements really well. There was something very playful about their sound, alot of it due to the cool/weird vocal interplay between lead vocalist Allan Vest(who I heard a tinge of
Stephen Malkmus
) and the ebullient background vocals provided by the rest of the band. In retrospect, my initial response during the show was conservative. I thought they were definitely interesting, just not revelatory; I wouldn't go so far to call them boring as some have said over at
Stille Post
, well at least not the music. Those songs over at
MySpace
site are definitely growing on me.
I truly underestimated the enthusiasm of Toronto
Mates of State
fans because I was quite shocked at the electrifying response the crowd gave as Mates of State's Kori Gardner on keyboards and Jason Hammel on drums began their set[only after having set up their own equipment]. The jubilant vocals from both members shone especially during the vocal interplay when one member'd sing one set of lyrics, while at the same time, the other would sing a different set of lyrics. While I'd only be introduced to the band's music over the last couple of years, I still hadn't heard much of their music until that show. My initial criticsm of their music lay primarily on the over-jubiliation of the vocals. There is such a thing about being too happy-sounding, right? Ok, maybe I was just being a wet blanket with such opinions, but maybe it was the environment of the live show and quite possibly the most energetic and grateful crowd that I've seen all year that made the music more enjoyable. Quite often concert crowds are an almagmation of different responses - from those that enjoyed the music, to those indifferent, to those downright turned off - but I'd be surprised to hear if anyone at the Mates of State show did not enjoy themselves. Audience members weren't shy to yell out song requests at times and or audibly sing along. Yeah, the thrilled crowd were only a reflection of the band themselves who were smiling and enthusiastic throughout. And yes, the pair do look lovey-dovey together: it makes you want to say "Awwww". A great show all around, further validated by Kori Gardner who called Toronto the best show of the tour so far.
P.S. The insertion of a few verses of Gnarl's Barkley's 'Crazy' into their song 'Like U Crazy' was priceless.
[
my photos from the show
]
Listen
:
The D'Urbervilles @ MySpace
Listen
:
Starlight Mints @ MySpace
Listen
:
Mates of State @ MySpace
:
:
In other news,
Sloan
have their Canadian
tour dates
up now and are scheduled for a show at Kool Haus in Toronto on October 11. Their new CD, the 30-tracks-long "Never Hear The End Of It" is out tomorrow in Canada.
Toronto's
The Bicylces
have some new shows listed at their
MySpace
site including a slot during the
Exclaim
/
Mint Records
shindig happening at Kool Haus on October
13
11, a scheduled appearance on
MTV Live
on October 16, being part of
Andy Kim
's annual Christmas show at The Mod Club on December 8 and an appearance at Nathan Phillips Square January 27, 2007 which I think is probably as part of the
Toronto WinterCity Festival
.