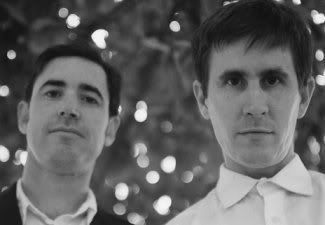 Zoilus
,
Chromewaves
,
The Geneaology of Taste
(who also has a video clip) and
Torontoist
have mostly positive reviews of Tuesday's
Mountain Goats
show at Lee's Palace which I unfortunately bailed out of going to because I was too tired. The only Mountain Goats release I'd ever heard(not including mp3's of the newer material) previously was his cassette-only release
"The Hound Chronicles"
featuring
The Bright Mountain Choir
released through the
Shrimper
label out of California even before The 'Goats were signed to
4AD
in 2002(with the release of
"Tallahassee"
). The music on that cassette had a lo-fi, folky, troubadourian quality to it that I'd suspected would have deemed The Mountain Goats to obscurity forever, moreso for
its fidelity
John Darnielle's lo-fi recording process rather than the music which was charmingly good. Methinks, I'd should really start playing catchup with The Mountain Goats' newer material. [photo from
http://../
]
The Mountain Goats
don't have a MySpace site
.
The Fordham Observer
interviews The Mountain Goats, John Darnielle about the new album
"Get Lonely"
.
Just a heads up, that if you pre-order the new
Pernice Brothers
album "Live A Little", "you will receive a bonus homemade CD, that contains seventeen tracks - demos of all but one of the songs on the CD, plus alternate mixes of 6 songs. It comes in a paper sleeve, designed and autographed by Joe. This is a limited edition bonus CD."
You must place or have your orders post-marked by September 22
. So get to it. For your convenience I've hyperlinked the order pages below for the various parts of the world:
USA
:
order
Canada
:
order
Ireland or Europe
:
order
UK
:
order
Australia
:
order
Rest of the free world
:
order
Oh yes, according to The Pernice Brothers most recent e-mail update,
tour dates
are trickling in(so far only a couple scheduled in Novemeber - 11/09 - Chicago @ Schubas and 11/10 in Madison, WI @ High Noon Saloon). You'd think that with Joe living in Toronto with his wife Laura, he'd be performing in Toronto more often? Hmmm.
And if you're still in a shopping mood, I suggest you pick up the newest issue(#4) of
Yeti
. I hesitate to call it a zine(really, it's a book) - the new issue is 240 pages and I can vouch for it being a high quality publication based on issue #3 which I have. As with Issue #3, Issue #4 also comes with a CD compilation - 28 tracks in all of exclusive/previously unreleased material from the likes of
Destroyer
,
Okkervil River
,
Califone
,
Page France
and more obscure artists. It includes interviews with Destroyer's Dan Bejar, Okkervil River's Will Sheff and many others. Yes, I do highly recommend it. At $12.95 US, it's a great bargain.
The Dears
will be appearing on
MTV Live
on September 26. "For free tickets call: 1-888-491-6888 or Email liveaudience@mtv.ca . You need to be there by 5:30PM at the Masonic Temple 888 Yonge Street , Toronto."
Robyn Hitchcock
and The Venus 3(which features
Peter Buck
,
Scott McCaughey
and Bill Rieflin) will be at The Mod Club on November 10, with tickets $20 onsale starting today. At best, I'm only a casually familiar with Robyn's music but I was looking forward to seeing him live last year when he was touring with
The Sadies
as his backing band, which disappointedly got cancelled(well, at least the Canadian dates).