concert review
:
Virgin Festival
(Day 2) @
Toronto Islands
, September 10, 2006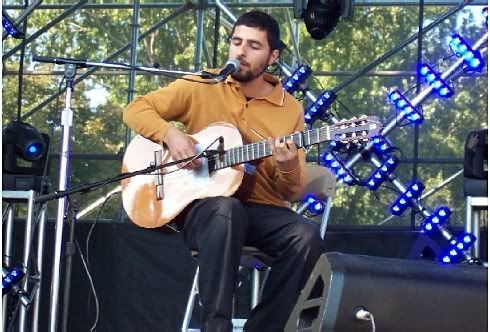 Let's get to it. My brother and I made it to the island slightly earlier than the previous day and this time we headed to the Future Shop Stage first where young Torontonian trio
Born Ruffians
were already playing. While there were some interesting sounds(a little Talking Heads influence, that yelp-y vocals that's so in vogue now), they're hardly a band that I can really get excited about on such a big stage. That was one problem with the festival. The festival featured several local Toronto indie bands(
Ohbijou
,
mean red spiders
,
The Diableros
, and said band above) both on its mainstage and Future Shop stage and as good as some of those bands are(in particular, The Diableros) they're hardly bands I can get excited about watching on a large stage with only a small crowd on hand. There should have definitely have been a third, smaller stage for the local indie rock regiment.
After Born Ruffians set, we headed to the main stage to see young Chicagoan rapper
Lupe Fiasco
. I only knew him for the song 'Kick Push' which is a decent rap song featuring a infectious melodic break and a smooth
Pharcyde
-y lyrical flow. Unfortunately, he didn't get to Toronto due to either trouble crossing the border, or him missing his flight. But he was apparently on his way, because the video screen later on flashed the revised schedules for the day indicating that Lupe would be performing on the Future Shop stage later on around 7:20 pm or so. So at the time we strolled down to the main stage mid afternoon, instead we found emo-esque, hard-core rockers
Thrice
. Not my thing really, but we stuck around anyway. With Lupe out of the main stage lineup, some of the acts'(like Thrice) had been moved up, although it's perplexing why the show in the end, could still run long, and headliners BSS' set could still be cut short.
Next up on the main stage were Australian rockers
Wolfmother
and I could already see after Thrice's set a wave of people slowly filtering in to the area. It's at this point I had to part ways with my brother as I went to go see
Jose Gonzalez
at the Future Shop stage. A healthy crowd was onhand to watch Jose as he performed on a small raised stage set up on the larger stage. With an acoustic guitar, Jose sat down and performed and sung a subdued set of soulful, folkly pop songs, turning in sublime covers of
Kylie Minogue
's 'Hand On Your Heart' and closing the performance with
Massive Attack
's 'Teardrop'. Jose had a very full-sounding, finger-picked guitar sound and he possessed a sensitive, vulnerable, higher-pitched voice that reminded me slightly of James Taylor but with a little more edge. Jose's performance of 'Teardrop' in particular was a slight consolation for Massive Attack being forced to cancel their headlining appearance for that night and was definitely a highlight of the whole festival for me.
I made it back to the mainstage where Wolfmother were finishing things up and by the large crowd onhand, seemed to have injected a good deal of energy into the crowd. Yes, the band and the audience were quite audible as I walked back from the Future Shop stage to the mainstage. An infusion of big-name Canadiana came in the form of
The Sam Roberts Band
who were up next. After his first album I sort of lost interest but I do appreciate his brand of intelligent, rock songs. Singles like 'Brother Down', 'Walk Away Eileen' and 'Bridge To Nowhere' drew the most response from the crowd. Sam Roberts definitely knows how to draw that a participatory element out of the crowd, encouring them to clap for several songs. The band ended the night on a dissonant, guitar-pedal-knb-twisting, Crazy Horse-esque guitar jam that I really didn't think the band had in them but I appreciated a lot.
I took to wandering the grounds and found myself back at the Future Shop stage where DJ duo
MSTRKRFT
were working the beats for the crowd. Considering there was still day light left and the whole on stage setup was just two guys on stage working the DJ equipment, it was an interesting live performance. It was all about the music really and whether you'd allow their high intensity disco beats to let your body take over and dance, which was the case with at least some in the audience. Their music is infectious on one level but there definitely suited to the DJ Tent(which they actually did play an hour or two before; I wonder what the live setup was like for that?).
From here on in really was the home stretch for me and my brother. After what seemed like an eternity, as a gangsta-hip hop song blared over the sound system,
The Strokes
strolled onto the stage. They've been off my radar for a while, but their performance reminded me of why I'd liked the band in the first place. They performed a bunch of songs off of their debut, '12:51' from "Room On Fire" and others probably from the new album. The debut album's songs definitely got the best response. A really tight performance overall. It really does make a difference when a band falls off the radar for a while, then you finally see them live again. It makes you appreciate and enjoy them much more. Frontman Julian Casablancas complimented us for living in such a great country and for it not being as screwed up as his.
Now, it was a toss up between
The Raconteurs
and
Zero 7
. The initial plan was to go to the Future Shop stage and see part of Zero 7's set then high tail it back to the main stage to see The Raconteurs. Surprisingly, though when we got to the Future Shop stage, Zero 7 hadn't even started, and would't start for almost another half an hour. Eventually, we even could hear The Raconteurs start their set off in the distance and due to the long wait for Zero 7 almost decided to get up and go back to the main stage. However, we ended up staying for Zero 7's set. When things finally got going, their set seemed plagued with technical difficulties forcing vocalist
Sia Furler
and the rest of the band to resort to other tactics like playing acoustically. Sia and a gentleman on guitar performed a great version of 'Somersault'. Later on things were delayed further when there were problems with the bass guitar. Jose Gonzalez made an appearance on few songs that are featured on the new album "The Garden". I think with all the delays and technical difficulties, the momentum of the evening was lost for me and definitely affected my enjoyment of the set. Nonetheless, there were moments like when they finally performed the gorgeous 'Destiny' which balanced things out for me.
Our walk back to the main stage for
Broken Social Scene
's set was interrupted by the sight of people flocking out in droves towards the ferry. I was wondering if this was the final straw in the Broken Social Scene backlash. Punky! at
Stille Post
said that apparently what happened was that security told people that BSS had cancelled their set. Whether that's true or not remains to be seen, but the reality was that Broken Social Scene did perform, which they did in FULL-BAND LINEUP fashion. EVERYONE was there including
Amy Millan
,
Emily Haines
and
Leslie Feist
(who'd flown in from Hollywood from the night before). What can I say? A BSS show, is a BSS show, is a BSS show. If you were seeing them for the first time, then I'm sure they were a revelation. If it's like me where I've now lost count, well then it was still a mighty fine set even though it was barely an hour. Highlight of the evening was the performance of 'Anthems Of A 17 Year Old Girl' which was the most emotional performance of their set especially when Amy, Emily, and Leslie huddled together in an embrace at the point in the song as they repeated
"Park that car, drop that phone, sleep on the floor, dream about me."
So there you have it. The inaugural Canadian edition of the Virgin Festival is over. There's a lot of discussion about whether the festival was successful or not or whether it was worth it in the end.
Chromewaves
has some thoughts on this and
Stille Post
is still discussing it. If Massive Attack weren't forced to cancel, I could have almost justified the $115.00 in total I paid for my passes for the two days[a pass for one day cost $57.50]. Without Massive Attack, the price tag should have been lower. But it's not like I broke the bank or anything. Comparatively, the two-day Virgin Festival did not come close in scope, cost-worthiness, and full-on enjoyment to my experiences of
Coachella
in 2004 and
Sasquatch
earlier this year. It's not to say that I didn't enjoy the Virgin Festival. It was definitely the most relaxing of all the festivals I've gone to; it didn't have the heat of Coachella nor the drastic weather conditions of Sasquatch. Coachella and to some extent Sasquatch had a dizzying number of bands to check out but was near impossible to due to overlapping set times. This Virgin Festival was somewhat better in that capacity since there were only two stages and a far more compact number of bands, and it worked out that most of the bands I wanted to check out were on the main stage anyway. Yes, there were other problems. Long walks between stages, expensive food, the overwhelming Virgin corporate sponsorship that loomed around us[with that much corporate sponsorship there should have been a lot more freebies]. Oh and that Wizard-of-Oz-ian voice that came over the sound system at times to thank us for coming out to the festival. Spooky. As others have mentioned, it's all about "baby steps". If it's true that this festival will be an annual event in Toronto, let's see what next year brings.