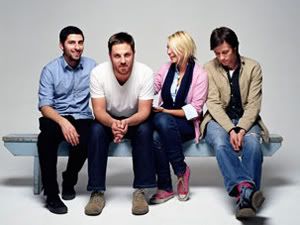 While I thought
Zero 7
's penultimate set on the Future Shop stage at the Virgin Festival last week was a minor disappointment[due to technical difficulties, the long wait for their set, etc...] that might have also possibly been due to the fact that I haven't gotten around to really listening to their new album "The Garden"(though I've had a promo copy for a while now) and I'd also found their prior album "When It Falls" a bit of a disappointment. Highlights of their Virgin Festival set were definitely
Sia
's acoustic performance of 'Somersault' and the couple of songs that
Jose Gonzalez
sung on. Zero 7's sound combines conventional songwriting structures with downtempo, sometimes electronic instrumentation, but I'd be quite happy if they concentrate on a more acoustic, song-oriented direction, possibly a whole album's worth. Zero 7's Sam Hardaker and Henry Binns, plus vocalists Sia Furler and Jose Gonzalez, and guitarist Dedi Madden were in
Minnesota Public Radio
's studios on September 8, 2006 for a
live acoustic session
, where they performed 'Dreaming,' 'Today,' and 'Pageant of the Bizarre.' Lovely.
And no, the following aren't acoustic, but here's some more Zero 7 audio for your enjoyment:
MP3
:
Zero 7 - You're My Flame (Dabrye Remix)
MP3
:
Zero 7 - Futures (Rub n Tug Remix)
And here's some links I've been sitting on for a bit:
The Dears
will be next in
The Edge
's Next Big Thing Concert Series and the 19+ show will take place Wednesday September 27 at
The Mod Club
. Win tickets to the show by entering
here
[you need to be signed up as an Inside Edge member]. Deadline is 11:59 September 24, 2006. [via
Broken Telephone
]
If the disppointment of the upcoming
Beirut
and
Joanna Newsom
shows(at the Horseshoe Tavern and The Mod Club respectively) landing on the same night(October 4) was too much to bear, I saw recently on
Stille Post
that Beirut(with openers being Toronto's
Born Ruffians
) will be performing the evening of October 3rd in Hamilton, ON at Pepper Jack Cafe. It's an early show that gets going 7:30 pm sharp.
Also via
Stille Post
, also visiting Hamilton will be hip hop's legendary
KRS-ONE
who'll be at Pepper Jack Cafe on October 2. I haven't come across any word of a Toronto date which is strange.
Stream
the new
Robert Pollard
album "Normal Happiness".
Relive the disappointment of
The Flaming Lips
shortened set at the
Virgin Festival
in Toronto at Toronto Islands on September 9, 2006 and
download the torrent
[registration required] of the show. [via
Largehearted Boy
]
Filter
has details on the upcoming deluxe 2-disc reissue of
Pavement
's 1995 album "Wowee Zowee".