concert review
:
Cat Power
@
Lee's Palace
(Toronto, Ontario), September 4, 2006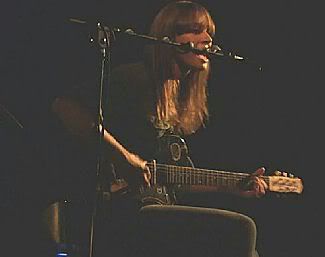 I must admit, before going to see Cat Power at Lee's Palace this past Labour Day, I was really a newbie to her music. I've owned "Moon Pix" for ages and I know her primarily for her music video to her song "Cross Bones Style"[
YouTube
]. I've even picked up a few of her other albums(including her newest album "The Greatest") recently. Still, for unknown reasons, I've just never gotten around to giving her music a good listen. The beauty of her song "The Greatest"(off the album of the same name) plus a bit of bandwagon-jumping on my part was enough to compell me to fork over the $22.50 plus service charge to go to her late show at Lee's Palace on Labour Day and I'm so glad that I attended. The general consensus about her last(last few?) show(s) in Toronto is that Chan's been a trainwreck live due to flakiness, alcohol or more likely a combination of both. However, a new era of sobriety greets Chan this time around, and it was definitely reflected at her late performance at Lee's Palace on Labour Day.
While blogger
The Genealogy of Taste
found Chan to be nervous and twitchy during the earlier show at 7 pm, I think Chan had worked out the kinks by the time the late show got under way around 11 pm. Given past criticisms of her live shows, I thought Chan possessed a decent balance between confidence and modesty: I didn't perceive her to be nervous at all but rather to be quite modest about all the attention thrown her way from the adoring sold out crowd. When a girl in the audience apparently fainted due to heat, Chan was generally concerned and was even offering her water bottle to the girl just as security came running to the front to check on her. And when the girl was brought backstage to be checked out, Chan walked offstage for what seemed like a good ten minutes before coming back onto the stage when she informed the audience that the girl was alright. The performance had been somewhat delayed previously also when Chan noticed someone she didn't recognize scurrying backstage and she called security to check it out because she had some of her things there. Perhaps, these delays were beneficial because they tended to act as intermissions during the generally same-sounding, long set. As sublime as I found Chan's brittle vocals against the spare accompaniement she provided with either guitar or piano, maybe the two hour plus long set was a little too much for some.
It was a really magnificent set and if I wasn't familiar with the songs necessarily[although I could tell many were familiar], the songs are enough to compel me to give her music a better listen in the future. One thing I'd like to mention though is her knack for performing thoroughly interesting versions of other people's songs. Touching on several covers including The Rolling Stones' "Satisfaction", The Everly Brothers' "All I Have To Do Is Dream", and Eric Burdon's "House of The Rising Sun"(plus was that a little bit of Otis Redding's "Try A Little Tenderness" that I heard?), Chan's versions were identifiably hers. With the tenderness of her vocals, slight melodic revisions and the sparest of instrumental accompaniement, Chan was able to make other people's songs her own, if only briefly.
I'm in general agreement with all the good things
Chromewaves
had to say about the show. And he has photos too.
basic sounds
also has a few choice photos and does Jason who posts some nice black and white photos over at
Stille Post
.
Update
:
My photos
.