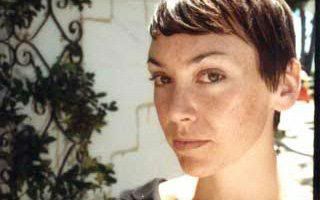 I'm so in love with
Inara George
's music. Listen to some song samples
here
from her debut album
"All Rise"
which was released at the beginning of this year. Thanks to
la-underground
for the heads up on this wonderful new talent from Los Angeles, California. From listening to the song samples, I find her music to be very much grounded in the old-school tradition of songwriting. I've read that she's the daughter of legendary
Little Feat
slide guitarist and songwriter Lowell George(Ok, so I don't know who he is but the I guess the seeds of her talent were there to begin with). There isn't anything remotely trendy about Ms. George's music and that's quite refreshing. Fans of
Beth Orton
and
Sarah Harmer
will want to take note.
"All Rise"
is a very good modern pop record taking on a rustic, folk-pop quality quality on numbers like
"Fools Work"
but endeavouring to spread it's pop wings on bouncy pop tunes like
"Genius"
and
"What a Number"
. I really need this album. [photo from
http://www.inarageorge.com/
]
Listen to or watch
Inara George's live session on
KCRW
from January 18, 2005.
Download
a podcast from
Zoe's Radio Show
from January 24, 2005 which features an interview with Inara George.
:
:
One Louder
presents his
Gigocracy
. Indispensible reading for any avid concert goer. How would you rate yourself? I guess I'd classify myself as a 'blogger', but really,
"rarely pays to get into a gig"
? I wish.
Ok, so the
Mississauga Waterfront Festival
this year doesn't totally suck. I may go check out
Matthew Barber and The Union Dues
on Friday June 18th at 8:15pm.
Julie Doiron
and
Snailhouse
will be doing an in-store performance @
Soundscapes
Sunday June 26th, 3pm. [info from
stillepost.ca
]
Buried within
Pitchfork
's article on
The Posies
is the information that the band'll be touring North America in September. Their new disc
"Every Kind of Light"
will be released on June 28 through
Rykodisc
. The band has a slew of European dates in July and August with more to be added.
As
Catbirdseat
(June 7, 2005 post) and
chromewaves
point out,
Teenage Fanclub
is touring North America in July and August and'll hit Toronto for a show at
The Mod Club
on July 25th. I am sooooo excited!!!!!!
The not-quite-impressed
Brooklynvegan
has some comments and photos about
Feist
's recent performance on May 14th opening for
British Sea Power
at the
Bowery Ballroom
.
New
Arcade Fire
music!!!! Check out an
mp3
of their new song
"Cold Wind"
which will be included with the upcoming
"Six Feet Under"
soundtrack. [via
Between Thought and Expression
via
daily refill dot com
]
New York City blogger and DJ
Melody Nelson
and her compadre Eamon Harkin have put together a
special mix CD
with respect to their Atomique DJ night.
PopMatters
has an interview with Dave Allen of
Gang of Four
.
Womenfolk
have moved
here
.
Futureshop
sucks for so many reasons but at least they have decent prices on some CD's. I picked up the new Teenage Fanclub and Coldplay CD's[
"Man-Made"
and
"X & Y"
respectively] today at Futureshop for the unbelievable bargain of $20 for both CD's. It was a one-day only sale, so if you missed it too bad. I also picked up the new
"Bebel Gilberto: Remixed"
CD for $12.99 while I was there. On a Coldplay note, the
Edge
played the hidden track
"'Til Kingdom Come"
which was described as a tribute to
Johnny Cash
. What could have been a stunning song[had it not been for Mr. Martin's dry vocals], I can only rate as "good". I'm fairly indifferent to Chris' vocals but for the most part feel that his vocals are appropriate for their music. However, Mr. Martin, please stay away from the country songs. 'A' for effort though.