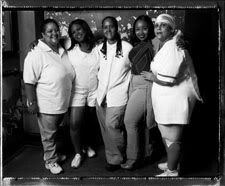 It's funny...
ESG
was getting namedropped left and right in the late 90's, especially when
Luscious Jackson
's
"In search of Manny"
was first released. I don't think they've ever made it to Toronto...until now. The 'legendary' group will be coming to Toronto for a show at
Lee's Palace
on June 24th. [photo from
http://../
]
The
Pernice Brothers
have been confirmed for a show in Toronto at
Lee's Palace
on July 18th, tickets $12.50.
Toronto psych-popsters
The Old Soul
will be doing a live instore at
Soundscapes
in Toronto on June 10th. The band's headlining a show at
The Masonic Lodge
in Mississauga tomorrow[June 3rd]. It's so close to me and it'd be the first time I ever saw a band live in my hometown but there are several Toronto shows tomorrow that I'm considering going to instead, such as
The New Deal
at
The Mod Club
,
The Two Koreas
(CD release party) at
The Boat
, or
Controller.controller
/
Uncut
at
The 360 Club
. Decisions, decisions.
Doves
will be performing a live session for
Morning Becomes Eclectic
today @ 11:20 PST(2:20 EST).
The Dears
/Shout Out Louds/Marjorie Fair will be doing a live session for
MPR 89.3 The Current
tomorrow.
I was out yesterday at noon and on two different occassions walked past an older gentleman walking around carrying a boombox that was playing his music. Is this some sort of new trend?