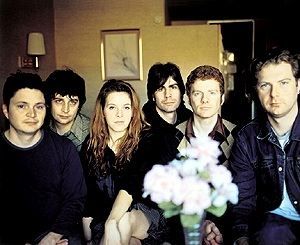 Pitchfork
reports on
The New Pornographers
' upcoming fall tour. Um, still no Toronto date but as
Pitchfork
points out, there are some holes in the schedule and that it's safe to assume that more dates are to come. By my looks of their new tour dates, my best guess for a Toronto date would be after the Chicago date on October 20th. Now that's just too long of a wait. [photo from
http://../
]
chartattack
reviews
The Dears
show at
The Phoenix
in Toronto from last Friday June 10th.
Juliana Hatfield
's official website is listing the release of her upcoming CD
"Made In China"
for sometime this August through her own label,
Ye Olde Records
.
Feist
is performing a live session for
KEXP
today[June 15th], 4 pm PST or 7 pm EST. Be sure to listen online. And a reminder[mark this on your calendars], Feist will be performing a live session for
Morning Becomes Eclectic
on June 21st.
One Louder
points out that you can download a six song acoustic set from
Broken Social Scene
, recorded in Paris at
Radio Aligre
, on their digital boutique,
galleryac.com
. Download the whole thing for $10.92.
Yesterday's
Ted Leo/Pharmacists
live session is now up at
MPR 89.3 The Current
. You can listen
here
.
Keren Ann
will be performing a live session for
Morning Becomes Eclectic
today[June 15th]. The show broadcasts at 11:15 am PST or 2:15 pm EST.
Here's a
torrent
of a live show from
Kathleen Edwards
at
Academy 3
in Liverpol, England on April 15, 2005.
Surreal moment of the day: being in
Futureshop
and hearing
M.I.A
's
"Bucky Done Gun"
blasting through a stereo system!
Ok, so for the next three years I'll be working in my
new cellphone
. My old Nokia conked out on me a couple of days ago. I was only a Pay-As-You-Go user. Actually, I only had my Nokia phone
since around last September 2004
. I'll probably get the old phone fixed through the manufacturer's warranty and give it to my dad. Not that I really got that many phone calls previously but hey, it's got a built-in camera!