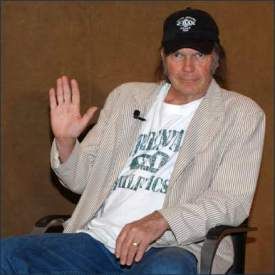 The Canadian date of
Live 8
just got infinitely better with the addition of
Neil Young
who is
now scheduled to close
the show which takes place July 2nd in Barrie at
Park Place
. A little late, huh, considering that had organizers been able to confirm Neil's appearance before now, I'd actually have considered going to this FREE show just to see his set. [photo from
http://.../
]
I was watching
Muchmusic
's
The New Music
yesterday evening and they broadcasted Part One of their interviews with
Broken Social Scene
,
Metric
,
The Dears
,
Stars
, and
Death From Above 1979
who all toured Japan recently as part of some sort of Canadian indie-rock invasion tour. If you get
CityTV
, catch the repeat Saturday @ 2:30 PM ET / 11:30 PM PT and Wednesday @ 11:30 PM ET / 8:30 PM PT. Part Two is suppose to air next week.
On the
Feist
watch,
Reuters
reviews her recent show at the
Bowery Ballroom
on June 25th. Thanks to
One Louder
for the link and pointing out
'her ability to coax a packed room of hipster New Yorkers to imitate a barnyard of farm animals during her whimsical delivery of "Now at Last."'
Let's see if this happens at her
Harbourfront
show in Toronto on Canada Day[July 1st]. Or let's make this happen. Who's with me? :-)
Go over to
Inside Entertainment
and check out the
virtual
version of the print magazine which features some great photos of some great musical artists including
Feist
and
The Arcade Fire
. [
Note
: to access the virtual magazine click on
"Hot Cd Releases"
on the site's main page, then wait for the magazine to load into the browser. To turn pages place the cursor at the corner of the page you'd like to turn. At least on my computer, the magazine initially loaded a page about Billie Holiday; the Feist/Arcade Fire photos are 13-14
page turns
before that. If you're really smart, you'll know how to capture the images. ...Or else you can just pick up the magazine and cut 'em out, I guess.]
More Cowbell
gives an update on the
Mates of State
tour.
I'd reported previously
that their tour schedule's trajectory was heading towards the east coast and there had been a couple holes in the schedule. Unforunately, with the new tour date update there isn't a Toronto date yet. Perhaps in the fall, as the band's schedule takes 'em towards the east coast in October with shows in Chicago(Oct 8 @
The Abbey Pub
), Cleveland(Oct 7 @
Beachland Ballroom
) and Alfred, NY(Oct 10 @
Knight Klub @ Alfred University
).
Aversion
speaks with
The Posies
about their 'comeback', about past attempts at dissolving the group, and the 'difficulty' of escaping the gravity of the band. Their new disc
"Every Kind of Light"
was just released today. How about reliving the old days? Download a
torrent
of a live show by The Posies on May 19, 2005 when they were in Toronto at
Lee's Palace
.
Another great
dimeadozen
torrent
at the moment which was just seeded is of a live show by
The Magnetic Fields
at the
Roskilde
festival on 07/01/01. What's new with Mr. Merritt these days? I still regret missing his show last summer in Toronto.
Mystery and Misery
whets the appetites of shoegazer fans everywhere with his spotlight on Estonia's
Pia Fraus
, including mp3 downloads. Lovely stuff.
Ugh, I think I came down with a cold. I called in sick to work this morning. My throat's a little sore. Otherwise, if it's not a cold, it's possibly a combination of the smog and the drastic temperature changes between the sweltering heat outside and the air conditioning inside which is doing me in at the moment. Apparently, it's been very comfortable in Vancouver recenty according to my brother who recently transplanted himself there. Vancouver, how I envy you.