Yesterday evening was filled with so many live music choices I was really torn deciding which one(s) to check out.
The New Deal
were playing
The Mod Club
.
controller.controller
/
Uncut
/
Republic of Safety
were playing
The 360 Club
.
The Old Soul
/
Meligrove Band
were playing
The Masonic Lodge
in Mississauga.
Matt Mays and El Torpedo
were at
Lee's Palace
. Having seen all the above artists/bands at least once, I decided to check out the
Brazilian Girls
at the
El Mocambo
and then head down to
The Two Koreas
CD release party at
The Boat
.
Brazilian Girls
@
El Mocambo
(Toronto, Ontario), June 3, 2005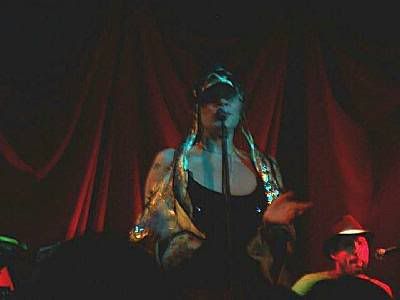 Brazilian Girls are actually three gents on drums, bass guitar, programmed beats, and a female vocalist. Apparently, they're one of the hottest acts to come out of New York City. Yesterday's show was hot in more ways than one. It was unbelievably sweltering inside the packed
El Mocambo
and Brazilian Girls' music was an irresistible mix of exotic influences including reggae, bossa nova, French-pop combined with trip-hop, electro-pop and dance rhythms. By the time I got there, I'd already missed several songs but I managed to catch just under an hour(including encore) of their infectious tunes. I ran out this morning to pick up their
debut self-titled CD
and I've been listening and becoming more familiar with the songs, in the process, reminding me of some of their set highlights from yesterday.
"Don't Stop"
had a sultry dance beat with lovely female vocals floating over it, and later on in the song reaches a fantastic melodic break.
"Pussy"
(with the chorus of "
Pussy, pussy, pussy, marijuana
") had a great pop-reggae feel, that reminded me a lot of
"Pass The Dutchie"
. Things slowed down in the set to reveal some nice bossa nova influenced songs. Vocalist Sabina Sciubba was in high spirits as a result of the responsive crowd. Really, considering the sweltering temperatures in the place, the packed nature of the club, and my general distaste for seeing bands at the El Mocambo(main floor), Brazilian Girls managed to transcend all those factors and put on a great show. If I wasn't already planning to go to the
Feist
show at
Harbourfront
on July 1st, I'd definitely check 'em out again that day in Hamilton, ON at
Pepper Jacks
. [
photos
]
The Two Koreas
w/
The Diableros
@
The Boat
(Toronto, Ontario), June 3, 2005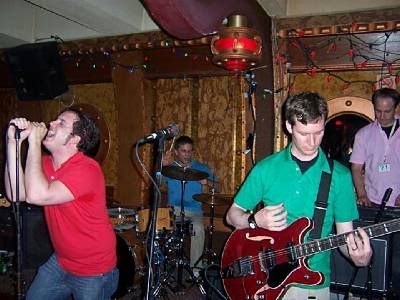 Brazilian Girls' show managed to end before midnight yesterday which gave me the opportunity to check out The Two Koreas' CD release show at
The Boat
, which was about a 5-10 minute walk from the
El Mocambo
. I'd never been to
The Boat
, which is located in the
Kensington Market
district. The walk to
The Boat
also reminded me that I need to get down to
Kensington Market
more often, which features some interesting shopping, restaurants and small live music venues. Maybe this summer.
The Boat
's named so I guess because of the nautical theme of the venue's interior design. I'm not sure why this venue isn't booked more often, at least for smaller indie shows. It's nice enough. Other than the one-step-up raised platform for the drummer and keyboard setup, there's no real stage though. I made it in time as openers,
The Diableros
started their set. They played a good set of indie rock tunes that reminded slightly of
The Walkmen
, not only with the vocals but also with the emotionally-charged, post-punk melodies. They're a young band and they don't necessarily add anything new to the post-punk genre, but for what they do they do very well. Check out the band's
MySpace
site for an audio sample; it also says the band's playing in Mississauga at the
Duke of Marlborough Pub
(680 Silvercreek Blvd.) on June 25th, which is just around the corner from me.
The Two Koreas
played a set full of songs with
Mark E. Smith
-inspired vocals, and at various times, hints of post-punk, garage rock and surf-guitar influences. The band members each wore a different colour shirt which actually made some of my photos quite nice-looking. The band played songs off their just-released
"Main Plates & Classic Pies"
which selling at this show for $5 was quite the steal. Having listened to this all morning, I'm disappointed in its seemingly lo-fi aesthetic. I wish there was more oomph! in the recording because the audio levels seem to be so low. With that in mind, I'd recommend that you check out The Two Koreas live. They'll be playing as part of the
NXNE
festival on June 9th at
The Comfort Zone
. [
photos
]
On a related note, The Two Koreas were featured in yesterday's
chartattack
.
:
:
Gorillaz
are going on a virtual tour, and are scheduled to perform live sessions for a slew of radio stations in the US through June. And with the internet, listening to the streaming feeds is just a click away.[from
Aversion
]
Just a reminder that
Muchmusic
will be broadcasting tomorrow, hightlights from
Coldplay
's recent promo-tour show at the
Kool Haus
in Toronto.