concert review
:
Jon Rae and The River
, Horsey Craze, The Deep Kisses @
Lee's Palace
(Toronto, Ontario), December 31, 2006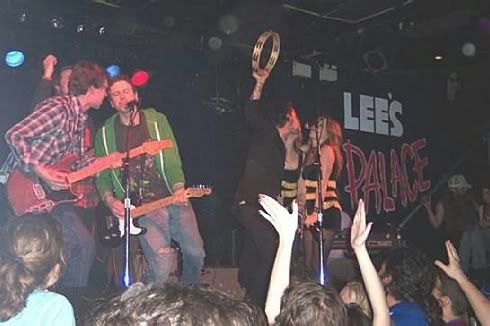 For many of us, it's back to reality today(ie work) but only a few nights ago many of us were knee-deep in New Year's Eve revelry. A few friends and I took in the New Year's Eve festivities over at Lee's Palace featuring headliners Jon Rae and The River, and openers, Horsey Craze, and The Deep Kisses. While Jon Rae and The River have more than a few of their own stellar tunes, the whole night was really about cover songs(what with the opening bands being cover bands) and that was what made it such a fun evening. Taking the early slot was soul covers act The Deep Kisses which featured members of
Lullabye Arkestra
and Jon Rae and The River. This was their first live show, not counting when they said they played someone's(Jon's?) wedding. The Deep Kisses' vocalist was none other that The River's backing vocalist Anne Rust-D'Eye, and damn does she have a set of pipes as did the band's female bassist, Lullabye Arkestra's Katia Taylor. Both ladies also wore matching sequined, go-go dancerish outfits. Hot. Unfortunately, I'm not quite up on my soul music, but there were some familiar tunes they performed such as The Ronettes' "Be My Baby", Marvin Gaye's "Let's Get It On" and Loretta Lynn's "Stand By Your Man". A really fun way to kick off the evening.
Next up were Horsey Craze, aka
The Constantines
performing a set of
Neil Young
covers. Joining the Horsey Craze lineup tonight was Lullabye Arkestra's Justin Small(who was also drummer for The Deep Kisses earlier in the night) presumably as a replacement for The Constantines' Steven Lambke who wasn't there that night. It was a great set covering, as far as I could tell, songs mostly from Neil Young's 70's output including dynamite versions of "Down By The River", "Powderfinger", "Like A Hurricane" and "Everybody Knows This is Nowhere". Where Bry's rumble of vocals is front and centre with The Constantines, it was Whil Kidman who was clearly better suited for Horsey Craze's set, as Whil's vocals approximated a Neil Young-like warble with a sincerity that I only imagine would make Neil Young proud.
Taking the stage at about ten minutes to midnight were Jon Rae and The River. Concerned about being prepared for the New Year's countdown, Jon said they'd play one song before midnight but actually they were able to fit two. After the second song, it was about a minute or two to midnight and the stage began to fill with the the other acts from the night and the band's friends. A sea of hugs and kisses filled the stage, and then with a hasty prompting from someone on the stage to the crowd for the time lead to a countdown of '5', '4', '3', '2', '1'. Happy New Year! I think it was Jon that started off shaking his beer bottle and spraying it into the air which led others on the stage as well as in the audience to do the same. It was a spectacle, to say the least, and such a fun moment to witness. The night was such a blur that I can't even remember what Jon played. About forty minutes into Jon Rae's set, my friends and I took off(because we were tired, sue us) but not before witnessing Jon Rae, The River and The Constantines' Whil Kidman as they ran through a raunchy version of The Rolling Stones' "Happy". Didn't I tell you this night was all about the cover song? Happy new year everyone!
Here are some
photos
of Jon Rae and The River's set.
MySpace
:
Jon Rae and The River
MySpace
:
The Constantines
MySpace
:
Lullabye Arkestra