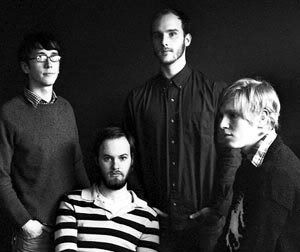 Originally released on
Three Gut Records
,
Outside Music
will be rereleasing
Cuff The Duke
's 1st album "Life Stories For Minimum Wage" on February 14. Outside Music will also be releasing Cuff The Duke frontman
Wayne Petti
's debut solo album "Untitled"(produced by
The Hylozoist
's Paul Aucoin) on March 13. Leading up to these releases, Wayne Petti's going on a brief tour stopping in Toronto for a instore performance at Soundscapes on March 9 and a gig at the Rivoli on March 29. As had already been previously announced, Cuff The Duke will be at Horseshoe Tavern for a show on February 24.
Wilco
's new album entitled "Sky Blue Sky" will be released May 15 through
Nonesuch
[via
Pitchfork
]. More info over at
Billboard
.
Montreal-by-way-of-Halifax turntablist
Skratch Bastid
has a show at The Drake Hotel on February 2. He'll also be joining
Buck 65
and
The Tragically Hip
at the Air Canada Centre on February 8. More tour dates at his
MySpace
[via
Stille Post
].
Omaha, Nebraska's
Maria Taylor
will stop in Toronto for a show at El Mocambo on March 21[via
Ground Control Touring
].
The Decemberists
will hit two continents in the near future, touring in February in Europe then North America in the US through March, April and into the beginning of May. Any Southern Ontarians so inclined can catch the band live when they stop in Buffalo, NY on March 30 for a show at Center For The Arts[via
Pitchfork
].
Swedish indiepop record label,
Labrador Records
celebrates its 100th release and 10 years with a 4 CD box set,
Labrador 100
, which contains one song from EACH of its past releases. I'll probably order it online(using
PayPal
); I went through the PayPal checkout process and found out that the price of the box set works out to only about $32 CDN. Decent. Now if only some of its roster could tour North America and come to Toronto. Apparently this past summer we were
so close
in getting
Acid House Kings
to stop in Toronto when they came over for a brief US tour.
I can still remember my disappointment when a Toronto show didn't pan out.