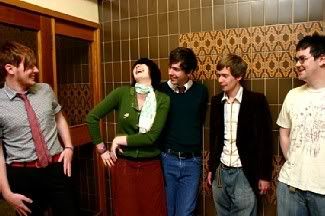 Most exciting news all day, Glasgow, Scotland's
My Latest Novel
will be in Toronto for a show at The Drake Hotel on March 9 as part of
Canadian Music Week
. I've been waiting for this forever, and when they played Vancouver in November as part of Transmission Fest but didn't play any other Canadian cities, I was really disappointed. This should be a good show. Definitely will be buying tickets for this one, rather than chancing it and trying to get in with a wristband. [thanks to
Chromewaves
for pointing out the date as well as to
suckingalemon
for the heads up that the show's part of CMW].
MySpace
:
My Latest Novel
Also on the
preliminary band list
for this year's
Canadian Music Week
in March who I'm interested in seeing are
Jenn Grant
(of course!),
Ruth Minnikin
,
The Coast
,
The Parkas
and
Ex-Lion Tamer
.
And more exciting news, Swedish pop artist
El Perro Del Mar
will be at The Mod Club on March 5. [via
The Windish Agency
]
MySpace
:
El Perro Del Mar
Brooklyn Vegan
brings word that Sting is in talks for
The Police
to reunite for a special tour to mark the band's 30th Anniversary. I'd love to go to this, as I'm sure a lot of other people would. Anyone remember The Police Picnic shows I believe they performed in Toronto back in the early 80's? I was too young then to go to concerts but I vote for The Police to recreate these shows(in the summer, of course) if they do reunite and come back to Toronto.
YouTube
:
The Police - I Can't Stand Losing You (promo video)