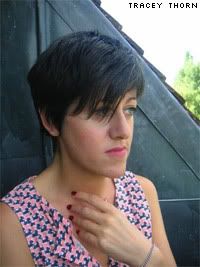 I'm not exactly elated with the new
Tracey Thorn
track "It's All True"]. Don't get me wrong - I like it enough, but with the song's squelches of synth and 80's dance rhythms, I think I'm feeling more nostalgia than anything else. "It's All True" is the first single off of Tracey's new solo album "Out Of The Woods" which comes out March 20 through
Astralwerks
, and believe it or not, it is only her 2nd solo album in 25 years(her first being 1982's "A Distant Shore). Regardless of my indifference to the first single, I'm still mighty curious to hear the new album just to hear Tracey sing - which also begs the question, any word on a new
Everything But The Girl
Album?
Listen to "It's All True" over at Tracey Thorn's MySpace:
MySpace
:
Tracey Thorn
PopMuse
also posted the MP3 of the song for download back in December so grab it while you can.
CMJ
reported on Tracey's new album back in December, and also has a tracklisting.
For nostalgia's sake(and because I also really like these songs and am getting antsy waiting for a new EBTG album), check out the following:
YouTube
:
Everything But The Girl - Each And Every One / Rollercoaster (live & acoustic)
:
:
Chartattack
reports that
Nettwerk
will be releasing the next Great Lake Swimmers album. Chartattack also points out a slew of Canadian
tour dates
for the band including a stop in Toronto on April 14 for two shows at Church Of The Redeemer. Further GLS news: there's word over at
Stille Post
that the band have released a limited edition vinyl release of which only 500 copies have been made. Entitled "Hands in the Dirty Ground", and featuring live and unreleased tracks, it's available through
Rotate This
as of now, and will be officially released on February 6 through indie label
Mag Wheel
. Their song "Leave It Behind", included on the release, can be heard over at their MySpace:
MySpace
:
Great Lake Swimmers
I haven't made up my mind yet whether I'll make it to the
Friends In Bellwoods
show at the Tranzac tonight featuring Sebastian Grainger, The Paramedics (Bry Webb Solo Project),
Ohbijou
, and
The D'Urbervilles
. Most of the proceeds from the show and the sale of the accompanying Friends In Bellwoods two-CD compilation are going to the
Daily Bread Food Bank
. I do really want to see Ohbijou however...I can't believe I've never seen them live yet, but if I don't get to the show tonight at least it's nice to know that they have
a crapload of shows lined up in the near future
.
Eye Weekly
has a writeup about the Bellwoods home(thats belongs to Casey & Jenny Mecija of Ohbijou) which evolved into a rehearsal/recording studio, eventually giving birth to the Friends In Bellwoods CD Compilation.
Thanks to
Stereogum
for pointing towards
Mark Ronson
's remix of
Lily Allen
's "Smile", entitled "Smile(Version II Revisited"), which you can listen to over at Mark Ronson's MySpace - wonderful:
MySpace
:
Mark Ronson