concert review
:
Basia Bulat
,
Barzin
,
Habitat
@
The Drake Hotel
(Toronto, Ontario), January 4, 2007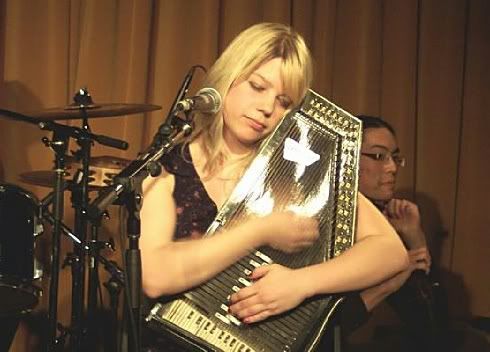 On the occasion of Basia Bulat's first headlining show in Toronto, preceding Ms. Bulat's set were a couple of fine opening acts. Opening the show were the keyboard-pop duo
Habitat
, comprised of Sylvie Smith(Vocals, Keyboards) and John O'Regan(Vocals, Keyboards, Guitar). John's probably more recognizable to some of you as the hyper-kinetic frontman of Guelph, ON's
The D'Urbervilles
. With the dual keyboard setup, there wasn't much to the live show except the songs, but what fine songs they were. John's slightly nasal vocals sort of reminded me of
They Might Be Giant
's John Linnell, while Sylvie's swoon-worthy vocals were remiscent of
Jenny Toomey
in my opinion, and as a duo their vocals meshed quite well. While the keyboard was at the heart of the songs, there were a variety of influences at play from the
Mates of State
-like vocal exhuberance of "Mess It Up" to
The Postal Service
-like electro pop of "Next Year". Changing things up, John switched to guitar for the fun indiepop of "Concrete Love". As far as I know, they only have a 5 song EP out, so yes it was a short set. I'm glad I finally got to see them live.
This was only my second time seeing
Barzin
live, the
first time being at Holy Joe's in March 2006
as part of Canadian Music Week. Downsized to a trio with only vibraphone, acoustic guitar, and electric guitar as accompaniement, the slo-core, country-ish tunes were lovely. Without the benefit of percussion(especially the cymbals), the songs lost a little bit of that shimmering quality that I'd found so captivating when I saw Barzin perform as a full band. However, I appreciated the vocals that seemed less whispered than I'd remembered, with a slight soulfulness this time around.
Basia Bulat
's set was all that I'd hoped for and more. With a 5-member band(actually 6 at the beginning of the set) in tow for the night including percussion, a mini-string section, keyboards and a background vocalist, Basia and company performed a dynamic set, alternating between whirling acoustic stompers and pastoral chamber folk-pop. Basia oozed charm: her sunshine of a smile, the way she leaned her cheek to her guitar, the way she swayed and shuffled her feet when she played guitar, her spontaneous(and humourous) banter. I don't necessarily get
The Arcade Fire
comparisons though. Sure, counting Basia, there were seven people on stage at any given time. Yes, Basia's band includes a mini-string section. Overall, Basia and her band come off much more down to earth, as if they'd be playing in your living room if given the chance, trading in Arcade Fire's alternating somberness/franticness with melancholy/celtic-like deliriousness. A great set overall.
Here are my
photos
from the show.
MySpace
:
Basia Bulat
MySpace
:
Barzin
MySpace
:
Habitat