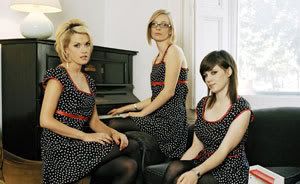 The
Canadian Music Week
site has now posted the
schedule
for this year's festival. It's now known that UK's
The Pipettes
will be playing the Rivoli on March 10, and if I've understood the schedule correctly, they'll for opening for UK duo
Smoke Fairies
who by the songs on their
MySpace
seem to be in that acoustic-folk vein. It's a little surprising then that The Pipettes are opening for them - oh well.[photo from
NME
]
Also according to the CMW schedule, currently hot locals
Ohbijou
are on the bill with Denmark's
Under Byen
and Sweden's
Frida Hyvonen
at The Mod Club on March 8. BTW, how was the
Friends in Bellwoods
show at the Tranzac yesterday? I wish I could have been there, but I was too pooped.
Joe Pernice recounts some memorable moments from on the road during The Pernice Brothers' most recent US tour over at
The Pernice Brothers
website. He signs off the post "JP 1/12/07 Toronto, Ontario, Canada". So now that Joe's back home in Toronto, maybe we can expect a solo show around town sometime soon?
The Fall
are
going on tour in the UK in March and April
but preceding the tour will come the
February release of the group's 26th studio album, "Reformation ! Post-TLC"
. Could that warrant a return to North America(and Toronto this time, please!) in the coming year - I hope.
The Montreal Mirror
has a conversation with
New Order
's/
Freebass
' Peter Hook.
I can only imagine some people are barely containing themselves about the upcoming
The Constantines
/
Jon Rae and The River
Canadian tour in March and April. There will be a two-night stint at Lee's Palace in Toronto on March 30 and 31, with
Shotgun and Jaybird
joining the bill on March 30 and
Ladyhawk
on March 31(via
Chromewaves
). Long live Canadian rock n' roll.