movie review: King Arthur [2004]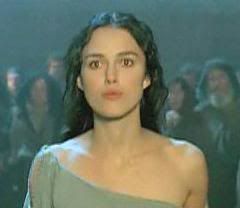 I went to see King Arthur a couple of days ago. My friend and I were several minutes late for the beginning of the film and while she saved some seats, I went to buy the popcorn and drinks, and I estimated that I missed at least the first 10 minutes or so of the beginning of the film which apparently provided background info for the story. Nonetheless, I got the gist of the film, enjoyed the film overall and would recommend King Arthur as an enjoyable cinematic experience. I do have a reservation or two about the film. Firstly, there were many things that I was satisfied with. The film felt very British and authentic, because as far as I knew, they were all British actors. Either that or some of them had damn good British accents. There was brilliant scenery throughout, in particular, the battle between the knights and the Saxons on the frozen lake. It was interesting to see the historical context within which the story took place. The costume design was adequate if not outstanding sometimes(I mean the knights looked cool) and in particular Kiera Knightley looked ravishing, both in warrior mode and her more feminine mode[btw, she pulls off the half shoulder dress look better than any women I've EVER seen].

On the other hand, there was something overly simplistic about the plot and character development, with none of the complexities that I would have expected. This isn't a major criticism; simplicity is good. I think Hollywood took a simplistic approach so as to not confuse the audience. So be it. However, considering I was not even familiar with the story of King Arthur, there was a directness and predictability with the way the film unfolded and I think I wanted to think more and feel more.

Overall, it was an enjoyable film on a straightforward level but with none of the epic proportions I was hoping for. Hopefully, this film establishes Kiera Knightley's leading lady status.
Death Cab For Cutie's "Transatlanticism" sounds so good in the current Bell Canada television commercial[the one with an Olympics theme]. That song sends shivers up my spine[in a good way] every time I hear it.
Calling all reggae/ska fans...Toots and the Maytals play the Irie Music Festival in Toronto at Nathan Phillips Square on August 1, 2004. And better yet, admission to the festival is FREE. The Irie Music Festival website doesn't give a specific set time other than a time range from 1pm to 10pm, whatever that means. Considering that Toots and The Maytals are reggae/ska legends, Toronto mods are likely to be out in full force that day. Look out for those Vespas. I'm strongly considering going to get my ska fix, considering I've been listening to The Specials lately.