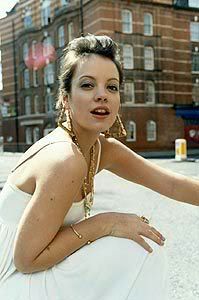 I've been waiting all summer for her to come to Toronto, but better late than never,
Lily Allen
will be at
The Mod Club
Lee's Palace on October 8. And Toronto should consider themselves lucky, given that she only has five North American dates. The rest of her tour dates can be found
here
.
NME
reported recently that she'll feature on upcoming UK superstar
Robbie Williams
' new album. I'm not sure what to think of that. More in line with Lily's rambunctiouness,
The Mirror
reports Lily lashing out towards
Girls Aloud
singer Cheryl Tweedy who Lily penned a song after. However, as Lily expresses although her song "Cheryl Tweedy" contains the lyrics
"I wish my life was a little less seedy. Why am I always so greedy? I wish I looked like Cheryl Tweedy. I know I never will"
, it is NOT a tribute[Ms. Tweedy took the song originally as a compliment] and was meant to be ironic. Oh, Lily what shall we do with you?[photo from
http://../
]
MP3
: Lily Allen -
"Smile" (Gutter Mix)
Listen
:
Lily Allen @ MySpace
Thanks to both
MattR
and
makeda
for leaving comments in my previous post pointing out the musical acts lined up for
University of Toronto
's orientation.
The Weakerthans
with headliners
Metric
will be performing at U of T's back campus on September 8 from 4:30 pm to 7:00 pm while
Tokyo Police Club
and
Magneta Lane
will be performing that night at Hart House from 9 pm to 1 am. The Weakerthans/Metric show should be easy to stroll into since it's outside although I'd suspect that they might be checking student id's for the Tokyo Police Club/Magneta Lane show. For more detailed information,
go here
.
Photos from
thecjm
and
bramptonboi
taken at
The Bicycles
' CD release party(evening show) at Tranzac in Toronto which happened Saturday night. Unfortunately, I didn't make it out to the show. Damn, and I had to miss The Bicycles backing
Sloan
's Jay Ferguson as they performed "The Lines You Amend".
Stille Post reaction
is appropriately giddy.
From Blown Speakers
conducted a poll of his own with other Vancouver music bloggers to come up with their top 23 local acts.
According to
The Diableros
' Pete Carmichael over at
Stille Post
, their bassist Gary is leaving the group. Why? Inquiring minds want to know.
My Indie World
points towards some info on the recording process of
The Shins
' upcoming third album courtesy of keyboardist Marty Crandall's girlfriend, a previous America's Next Top Model contestant, Elyse Sewell. She writes at her
LiveJournal
that as of the date of the post(August 20, 2006), The Shins have finished the last day of recording with producer Joe Chiccarelli. She writes,
"The next step will be mixing and arranging all the recorded tracks, then mastering the songs into their final album form, then probably releasing it around December."The Montreal Mirror
spoke with
The Sadies
' Travis Good about the recording and recent release of their new live record "In Concert Volume One". One question Travis is asked is who'd The Sadies would like to work with and he mentioned
Neil Young
. Someone's gotta make this happen. I previously mentioned that Neko Case will be appearing on
Late Night With Conan O'Brien
on August 30th, but I just noticed on The Sadies website that they will indeed be her backing band for that performance!
Last Wednesday August 16, 2006,
Camera Obscura
's TracyAnne Campbell was interviewed and the band performed a few songs live on
NPR
's
World Cafe
. Listen
here
. They performed
sublime
versions of "The False Contender", "Tears for Affairs", and "Let's Get Out of This Country".
New Zealand's
Stuff
looks at the steadily increasing 'cool' factor of country music.