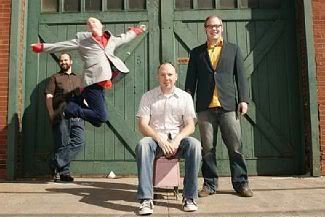 I'd originally planned on going to see
Smoking Popes
tonight at Lee's Palace. They're primarily known for their 90's melodic alt-rock hit "Need You Around" and their album "Born To Quit" from which it came from. I'm squarely in the camp of only knowing the band for that one song, and it almost convinced me to go see them tonight. For the same reason though, I decided it wasn't really worth the trip downtown to check out the band for that one song. God knows how sick they are of people shouting out that request at every show. My guess is that they either play it near the start of the set and get it out of the way or save it for the encore. So I'm listening to a live version of "Need You Around" on their
MySpace
and I'm thinking to myself, maybe I should have gone to the show tonight? Apparently they'd released a follow-up album in 1997 cheekily called "Destination Failure" from which a few of the album's songs can be heard at their Myspace site. They were(are) definitely not a one-trick pony. It's a shame that they got lost in the corporate shuffle of the music industry during the late 90's. So now I feel a little guilty for bailing on the show tonight but I'm sure they'll rekindle a little interest in more than a few fans there tonight.
Listen
:
Smoking Popes @ MySpace
Eye Weekly
interviews Toronto's
The Bicycles
. The band's CD release party for their debut album "The Good, The Band and The Cuddly" is two-fold this August 19th at Tranzac in Toronto with an early show scheduled for 2 pm in the afternoon and an evening show later on at 9 pm for you drinkers. Opening the shows will be
Laura Barrett
. I was originally planning on passing on these shows, but then I saw the
list of guests
that'll be at the show. This could be really good.
A band for which I recently got a promo CD in the mail, San Diego, CA's
The North Atlantic
are coming to town for a show at El Amigo in Toronto on September 26th. Also on the bill are
Wax on Radio
, with more acts TBA[via
Stille Post
]. They have an interesting blend of hardcore and melodic indie rock influences that at it's best revisits the glory days of
Archers of Loaf
. Their debut album "Wires In The Walls"(released through
We Put Out Records
) is in stores now.
Listen
:
The North Atlantic @ MySpace
[recommendation: "Scientist Girl"]
chartattack
has the tracklisting for the upcoming new
Sloan
album "Never Hear The End Of It"(to be released September 19th) which'll feature a whopping 30 songs on one CD(or double-vinyl if you prefer). Listen to the first single "Who Taught You To Live Like That?" over at their
MySpace
site.
If you hadn't seen the update on my last blog post, I mentioned that the
Matador Records
website confirms that the
Pretty Girls Make Graves
show will be at El Mocambo in Toronto on November 4th, and also playing will be a band called A Gun Called. I'm wondering if El Mocambo is too small of a venue for Pretty Girls Make Graves. I'd figure that they'd fill a larger place such as Lee's Palace easily.
If you're still disappointed that Swedish indiepop group
Acid House Kings
didn't/couldn't make the trek to Canada when they toured the US recently, I direct you to
Bradleys Almanac
who has available for download in MP3 format, the band's live set from their show at TT the Bears in Cambridge, MA from Monday July 10th, 2006.
NME
reports on the string of
John Peel
session compilations that will be released later this year. Several acts will see the release of their best John Peel sessions including
Pulp
and
Gene
who'll both be releasing double albums of their Peel sessions. Other bands to be featured include
Siouxsie and The Banshees
and
The House of Love
. I'm really looking forward to the Gene compilation[via
neverwalkagain
(Gene fan group mailing list)].