concert review
:
Starflyer 59
,
The Coast
@
Lee's Palace
(Toronto, Ontario), August 6, 2006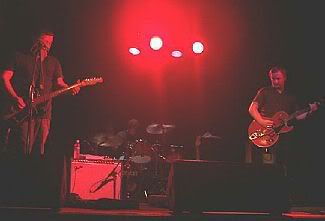 By a stroke of luck I won a couple of spots on the guestlist for this show courtesy of
Chromewaves
. However, I could have easily bought tickets at the door without a problem since there were barely a hundred people in the place. I couldn't even blame it being a Sunday night since Monday was a civic holiday in Ontario. I'll have to assume that Starflyer 59 just don't have that much of audience in Toronto. I wonder if the Christians flocked to see them when they played in Kitchener, ON as part of the
Nidus
festival a few days before? I'm barely familiar with themselves although I've heard a few songs from them and read a lot about them being part of whatever shoegazer movement exists today. Whatever miasmic, melodic guitar qualities Starflyer 59 might possess, I will say after seeing them live they are not soley a shoegazer band. I mean that in the best possible sense since, they possess a more well-rounded sound that I prefer.
For all intensive purposes, the lineup of Toronto's The Coast opening for Starflyer 59 was a good match. Both possess a certain level of shimmering guitar sounds with a good melodic sensibility.
The Coast
are far more Brit-centric in their sound in my opinion, and having picked up their self-titled EP at the show and listened to it several times, their sound reminds me of later-period Echo and The Bunnymen at their most melodic in it's guitars and vocals. At other times, the music's atmosphere reminds me of The Verve. Having listened to them live(now the 2nd time I've seen them live), they have a propulsive sound in it's rhythm section which somehow never seems to detract from the melodic quality of the guitar and vocals. Having seen them live during NXNE, I can only assume that the illumination on stage provided only by a string of white Christmas lights around the frontman's mic stand is a regular thing with the band. It's a nice touch and a change from the normally harsh red light that usually illuminates the stage. The only disappointment was that the sparse audience chose to sit down or stand at the back of the venue rather than approach the stage. However, with even such a mellow audience, The Coast's set was well received as I could ascertain from the applause after each song. The Coast's set ended on a propulsive tune that manage to infuse nicely into the song a few lines from Jesus and Mary Chain's "Head On"!
Although I'm not quite sure if
Starflyer 59
are officially a trio, at least this night there were only three of them onstage. Seeing them live, technically I didn't consider them shoegazer. They do possess some shoegazer qualities in it's languid vocals and some fuzzy, melodic guitar tones but more often than not they approached dream-pop territory(sometimes even a more conventional melodic rock sound) and had less of that harsh quality that I usually associate with shoegazer. One of my favourite songs of the set featured a nice slightly-countryish slide guitar sound melding quite well with the song's more overt dreampop qualities. There's not much I really can say about their live show. There was little to no stage banter but otherwise the music was enough to hold my attention. However small the audience was, at least myself, my friend and the the rest of audience approached the stage for this set and I could tell that some people in the audience were already Starflyer 59 fans given some fans shouting out requests. We coaxed the band to come out to play at least one song for an encore and then the show was over. I picked up a live release of theirs(2005's "Never Play Covers") at the merch table.
[
PHOTOS FROM THE SHOW
]
Listen
:
The Coast @ MySpace
Listen
:
Starflyer 59 @ MySpace
:
:
Pitchfork
reports that UK indie sensation
Lily Allen
has signed to Capitol in the US and she'll be releasing her debut album "Alright Still" in the US early in 2007. I'll probably have to pick this up on import(since it came out in the UK in July) because 2007's just too long to wait.
Today's issue of
Pitchfork
is chalk full of concert info, of which Toronto is included!
Jenny Lewis
will
embark on a Fall tour
and will be in Toronto for a show at Trinity St. Paul Church on October 7th.
Rogue Wave
will
hit the road again
and are scheduled for a stop in Toronto at Lee's Palace on September 9th with openers
The Grates
.
DJ Shadow
is
making the tour rounds
from August through to December and will be in Toronto for a show at Kool Haus on October 12th.
Thanks to
More Cowbell
for pointing out
Frank Black
's upcoming tour itinerary which includes a full band tour which'll hit Toronto for a show at The Opera House on October 26th.
Popmatters
explores the first five albums of
Jesus and Mary Chain
's catalogue(which were recently reissued) and sheds light on some albums that are oft-times overshadowed by the band's debut album "Psychocandy".