concert review
:
Black Heart Procession
,
Danielson
,
Devics
,
Castanets
@
Lee's Palace
(Toronto, Ontario), August 3, 2006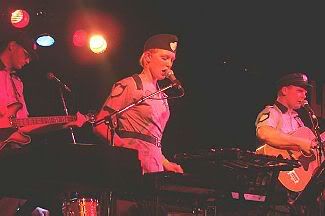 I'm just a tad late with this review(allergies acting up again, overall feeling a little lackadaisical over the weekend). Unfortunately, I missed first openers
Castanets
who are part of the Christian-friendly
Asthmatic Kitty
roster. I haven't heard them before so should I be disappointed that I missed them? On second thought, don't answer that. Second openers were Los Angeles'
Devics
. While the audience was for the most part standoff-ish during their set(not without a little coaxing from vocalist Sara Lov for the audience to come a little closer), I thought that Devics' music was the most satisfying set of the night. Suave, cinematic, and melodic, their music's not unlike say Luna at times, although Devics use of keyboards and Sara Lov's gorgeous female vocals defines a sound that's entirely their own. The most convincing song for me was the duet of Dustin O'Halloran and Sara Lov on the waltz-ian, slo-core of "If We Cannot See" that infuses the song partway through with an exhilirating ringing guitar arrangement.
It felt good to make good on a promise to myself that I'd go see
Danielson
live. Last time they swung through town I believe was as part of an
Exclaim!
concert tour several years ago. When I'd come across their music in the late 90's it was during a time that I was primarily into indiepop so I won't say I was entirely enarmored with the quirky Danielson sound. I'd even picked up one of their CD's used and subsequently sold it. Having broadened my musical horizons to an extent since the late 90's, I'm a little disappointed that I hadn't given them more of a chance then. What I've heard of their fun live show, combined with the band's Christian values(something that's of some interest to me since I'm Catholic) makes them at least something of a curiosity to me.
In retrospect, I think Danielson should have headlined this show. Their quirky, yelpy indie rock was much more suited to ending the night on a high note than actual headliners Black Heart Procession(who I'll get to later). Having seen the band's documentary
"Danielson: A Family Movie"
recently, I knew what to expect: matching costumes, members' onstage exhuberance, and Daniel's eccentricities. The current touring incarnation of Danielson this time included Daniel's sister Megan on keyboards, brother Andrew on drums, friend Chris on guitar and Jedidiah on bass. According to their website, the band's "still wearing their trademark hearts-on-sleeves and names on their chests. This new uniform is inspired by the drawings and colors from the artwork and the album's inspiration of creative community." Daniel's eccentric nature was illustriously displayed during his intro to "Did I Step On Your Trumpet?" when he went into a weird discussion of how the phrase could be used as an effective response to a situation. It's funny then that as he tried to warm up a trumpet he was going to use for the song, he couldn't get it to work, prompting him to say that maybe someone did step on his trumpet. Subsequently, Daniel put down the trumpent and then launched into the song, micmicing the song's trumpet arrangement vocally, to the delight of the crowd. Partway through the set between songs as Daniel changed a broken guitar string, Chris and Andrew broke into a spy-tune/surfy instrumental drums/keyboards jaunt that sent Megan off to the side of the stage watching over gleefily, barely containing her urge to dance along to the groove. Too bad I wasn't more familiar with the songs(although I'm pretty sure they peformed "Ship The Majestic Suffix") but they were all kinds of quirky fun. And there was good amount of handclapping. The most surprising thing of the set was I didn't pick up on any overtly Christian references when I figured there might at least be a few references to God or Jesus Christ. I'm not complaining one way or another, I'm just saying.
Ending off the night were the appropriately named
Black Heart Procession
. Piano laments augmented with appropriately sombre bits of violin, guitar and drums I was reminded a bit of Nick Cave and Tindersticks. Not to say that the band couldn't pull themselves out of the gloominess and pull off a nice up-tempo pop music jaunt. However, such excursions were definitely in the minority as the order of the day was a low-key, sad-sounding set. It's interesting that Black Heart Procession got some of the most vocal audience responses of the night(particularly between songs) although I'm not sure if it was alcohol talking, impatience or if it was genuine fandom. I prefer to think it was the last factor. An interesting set overall, but as I'd mention above, I'd have preferred that Danielson had headlined cause I was sort of getting sleepy during Black Heart Procession's set.
[
PHOTOS FROM THE SHOW
]
:
:
Listen
:
Castanets @ Myspace
Listen
:
Devics @ MySpace
Listen
:
Danielson @ MySpace
Listen
:
Black Heart Procession @ MySpace
cleverLazy
recounts a spontaneous group trip to Brooklyn several years back when she experienced the gloriousness of a Danielson show and she also shares a recent interview she conducted with Daniel of Danielson.