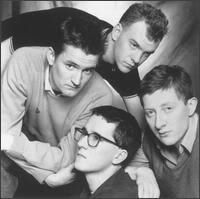 It's with great pleasure to find out that
The Housemartins
will be releasing a retrospective of their BBC recordings entitled "Live At The BBC". According to their
press release
[right click and save], the collection was compiled by band member Stan Cullimore and will feature 24 tracks. Expect its release on September 18th through Universal[although, I'm not sure if that's a UK and/or general release date]. If we're lucky, perhaps we will get a few Housemartins songs when
The Beautiful South
perform at the Phoenix on November 1. Just out of curiosity, does anyone know whether The Housemartins ever came to Toronto?[info via
paulheaton.com
via The Beautiful South
forum
] [photo from
http://../
]
I've just become aware that
Bettie Serveert
are celebrating their 15th anniversary and in honour of the occasion they have released(or will release) a new semi-acoustic CD & (their first) DVD entitled "Bare Stripped Naked". Both have been out in the Netherlands since August 7, will be released in Belgium August 28 and us North Americans will see their release soon on September 12. If you're lucky, you'll catch them when they
tour
North America starting at the end of September and through October. Unfortunately Toronto isn't on the tour schedule this time around although if you're so inclined they'll be in Buffalo, NY at The Buffalo Icon on October 3. You can currently listen to one track("Hell Is Other People") from their new acoustic CD over at the band's
MySpace
site.
The latest news update(August 18, 2006] over at
Tag Team Media
states that the release date for the new disc from
Clinic
entitled "Visitations" has been pushed back to January 2007 from its original October 2006 release. In the meantime, their
MySpace
site is hosting several live mp3's[
info
] including versions of two songs that will be formally released over the next couple of months including "Lee Shan" (a b-side on the "Harvest" single) and "The New Seeker" (a track from the new album, "Visitations").
Further visual wonderment from
The Bicycles
' CD release party at Tranzac from this past Saturday night, this time from
Rock // Paper // Pixels
.
Amy at
Stille Post
says the
Lily Allen
show for October 8 has been moved from The Mod Club to Lee's Palace, to be confirmed shortly.
Update
: Confirmed at
ticketmaster.ca
. Tickets onsale Thursday August 24 at 10 am.
Torontonians, head over to the
Toronto International Film Festival
website around 1 PM EST today when a complete list of films in this year's festival will be available. I've never gone to TIFF and I think I'll try to see at least one festival film this year. Perhaps something during the festival's Midnight Madness program?