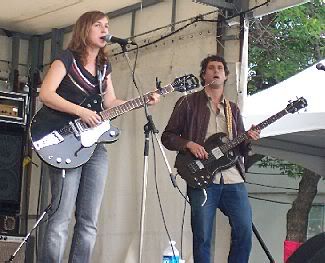 Given the intensity of discussions occuring over at
Chromewaves
and
Zoilus
about the worthiness of the Torontopia music scene, I'm afraid I have far less intelligently stimulating discourse to offer. Just a good ol' concert rundown of last Saturday. I'll start off with a few sets I caught then hopefully run down the rest within the next couple of days. Last Saturday I was fortunate to catch a number of great acts.
My Saturday afternoon began with
Amy Millan
's show at Harbourfront Centre's CIBC Stage as part of the
Indie Unlimited
festival. Following Amy's show, was Montrealer Angela Desveaux at the Toronto Star Stage. Given both these artists' take on the country music genre, it was quite audible the differences that each artist brought to the table. To be more specific, neither were specifically country but both used country music as starting points. Amy performed with
BSS
' Evan Cranley(on trombone) as well as
Toronto
Craighurst, Ontario band
Paso Mino
as her backing band. While some of Amy's songs might have the familiar melodic 3-chord swing of country music, there's an urban-ess to her overall sound. It's not just that she doesn't sing with any sort of country drawl(which I'm not saying is a bad thing in the least) but the overall instrumentation leans towards the rock rather than the twang, comparable to say Neil Young's most subdued moments. It's a very nice sound, although I'm still trying to make up my mind if she really has the tune's to back it up. Her solo version of
Stars
' "Look Up" was terrific, however. Amy came out for a one-song encore and the crowd ate it up. Deservedly so. More reviews are over at
Just Keep Bloggin'
and
Chromewaves
.[
Listen
:
Amy Millan @ MySpace
]
Montrealer
Angela Desveuax
was introduced as follows:
"If Angela Desveaux could have three pictures in her wallet, she says they would be of Gillian Welch, Lucinda Williams, and her grandmother. These are the figures she holds dear and suggest the influences that have shaped her musical identity."
I thought Angela and the three members of her backing band(which included at least that day, Mike Feuerstack aka
Snailhouse
on guitar) performed a very tight set of tunes. I can only say I have a cursory knowledge of the music of Gillian Welch and Lucinda Williams, but I did feel that Angela exhibited in her music the same sort of purity that those artists do. Angela's vocals(range & inflection) fell somewhere between say Amy Millan and
Neko Case
and combined with the rich melodies of her songs and the solid instrumentation, it was breathtaking. Although, Angela and her band concentrated mostly on a selection of country-tinged mid-tempo songs, they displayed a knack for pop music on at least one strummy-guitar pop song. Mike upped the twang-factor on at least a few songs with some twangy guitar arrangements. The fact that her music sounds fairly conventional(as conventional, but as interesting as say
Sarah Harmer
) makes it all the more surprising that her debut album "Wandering Eyes" will be released through, of all labels,
Thrill Jockey
next month. [
Listen
:
Angela Desveaux @ MySpace
]
Later that evening I caught
The Hidden Cameras
' performance at Harbourfront Centre's CIBC stage, cutting out at the start of The 'Cameras encore to make a mad dash to the El Mocambo to catch the tail end of
The Russian Futurists
' set and then
Junior Boys
' headlining set, and then finished off the night just down the street from the El Mo at Silver Dollar where
The Deadly Snakes
were finishing up, what Dan Burke was billing as the band's 'REAL LAST SHOW EVER'. I'll make all possible attempts to post about these within the next couple days, and of course post a link to some photos. Until then, good night.