concert review: Wilco @ The Mod Club Theatre (Toronto, Ontario), August 3, 2004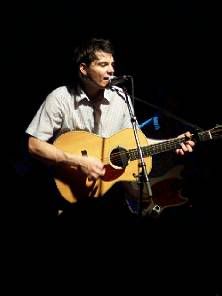 I've been quite delinquent posting reviews in a timely manner of concerts I've seen. I still don't see how some of you bloggers do it. I wouldn't suppose any one is interested in a review of the Wilco show at The Mod Club Theatre last week? Maybe not, but that won't stop me. I promise to keep it (sort of) brief.

Seeing Wilco live had escaped me for some reason until last week. I remember when "Being There" came out and Wilco were playing the Horseshoe. I had been taking some night classes at the time at Ryerson in downtown Toronto, and after class I was contemplating dropping by the Wilco show. My impression at the time was I'd likely be able to buy tickets at the door[I don't remember Wilco at the time being nearly as well known, or in demand]. But at the time, ultimately I decided NOT to go because I was too tired. I friggin' regret that decision. Apparently, CBC radio program Radiosonic[now defunct] taped the show, and I was able to record the show when CBC radio broadcast it. And what a show it was. Just plain beautiful. I still have the tape and listen to it every so often. <sniff sniff> Since that show, I've missed out on seeing Wilco live on subsequent occasions, for reasons I can't even remember now.

So FINALLY, last week's show was a long time coming for me. I missed out on Jim White's performance but made it into The Mod Club Theatre just before Wilco's set, managing to snag a cozy spot near the bar, about half way back the length of the club from the stage. It's such a beautiful venue, with cool Mod-inspired graphics on the walls. It's a pity that I haven't listened to "A Ghost Is Born" that much, but I did recognize some standouts like the playful "Hummingbird", "Handshake Drugs", and "At Least That's What You Said" which reminded me of Neil Young and Crazy Horse. I think it was during "Hummingbird" that Jeff put down his guitar, picked up the mic and playfully danced during the song. My one question: When did Wilco become Sonic Youth? There was a couple of freakouts which resulted in a flurry of distortion and noise at the end of one or two songs. I loved "Jesus, etc" and "Heavy Metal Drummer" from "Yankee Hotel Foxtrot" and was glad that they played "A Shot In The Arm" from "Summerteeth". I would have prefered more tracks from "Summerteeth",in particular, "I'm Always In Love", "E.L.T", and "My Darlin'". They sorta made up for it by playing the wonderful "Far Far Away" as well as "California Stars" during one of the encores. The musicianship was on target so I don't have much to say about that. It really was the experience of seeing Wilco live, especially in a smaller venue than they would normally be seen which spoke for itself. There was something very satisfying as well to see the happiness and contentment that Jeff Tweedy was exuding that night. He even went so far to make fun of himself when he spoke about Canadian pedal steel extraordinaire Bob Egan, who Jeff said he had hoped would have joined them for a song, but then said something along the lines that Bob had heard he was a self-centered, egoistic dictator. :-) My only real disappointment that night was not being able to get many good digital camera photos; honestly, only one or two of my pics were half way decent, but if your interested in checking out some of the 'honorable mentions'[and I use that term loosely], click here. All in all, a spectacular show.