concert review: Broken Social Scene w/ Jim Guthrie @ Harbourfront (Toronto, Ontario), part of Gobsmacked festival, August 27, 2004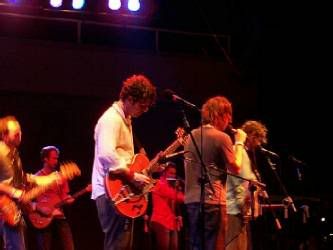 Broken Social Scene took over Harbourfront in Toronto this past Friday Night and it was truly spectacular. I missed opener Jim Guthrie as a result of misjuding the amount of city traffic down near the waterfront. So by the time I found parking and walked from the parking lot to Harbourfront, Jim Guthrie was just finishing his set. I didn't anticipate how well attended the Broken Social Scene set would be because it was a packed house. However, I made my move towards the front of the stage at left and and found a spot right near the left side of the sate where I had a decent view. Summer came back with a bang that night because it was a warm evening, if somewhat humid. There was an anticipation in the air, maybe partly due to the gig being billed as BSS' last show ever, that that night would be something special. And it was, my only disappointment being that I was not front and center to watch the show. I felt slightly detached from the show watching from the left side because most of the band's attention was diverted towards the center but I felt slightly consoled when Amy Millan and Emily Haines made an all-too-brief appearance towards the left side of the stage. Everyone on stage were in high spirits, Emily, and especially Amy, rocking out on the faster numbers, Kevin Drew playing stand-up comedian[there was a joke directed to the drummer, and the punchline was something along the lines of fast food, a movie and it being called "Super-size Pete" :-)], and the lanky Jason Collett with the fist-pumping action on the couple of songs he sang vocals on. And it was especially great to see Bill Priddle(ex-Treble Charger) play guitar on "Pacific Theme" which is an all-too perfect air-y summer song, in my opinion. Also making a guest appearance was Julie Penner from The Fembots contributing some lovely violin on one song. The hippy-love-in influenced expressions of Kevin Drew were very welcome indeed and even moreso was his clarification that that was NOT BSS's last show. However, Broken Social Scene PLAYED like it was their last show. Kevin Drew expressed that, for the moment, Broken Social Scene was an ongoing concern, and will continue to be as long as it feels right. Then Kevin went through a Broken Social Scene family tree role call mentioning most if not all of the great bands that BSS' members belong to including Metric, Stars, Do Make Say Think, Raising The Fawn, Jason Collett(solo) and Feist. I still maintain that Broken Social Scene's Olympic Island set just a few weeks back was a better set but their set that night at Harbourfront only comfirmed the mighty power of the 'Scene and I can only hope converted a few onlookers.[check out my photos here.]

...stay tuned in the coming days for more of my Gobsmacked reviews including shows by Fembots, Barmitzvah Brothers, Hidden Cameras, and King Cobb Steelie. Can't wait till next year's Gobsmacked!