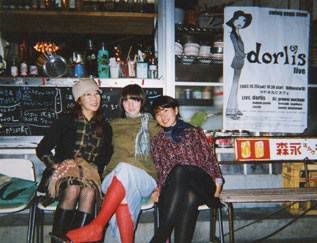 Any Plumtree fans out there? I still get the odd e-mail from the Plumtree Yahoo! Group, and today ex-Plumtree'r Catriona Sturton posted the following message:

"To: plumtree@yahoogroups.com
From: "Catriona Sturton"
Date: Mon, 9 Aug 2004 13:54:59 -0400 (EDT)
Subject: [plumtree] Catriona's band from Japan is coming to Canada in November!


Yep, it's true.
The Secret are coming to Canada for an eastern Canada
reunion tour in November.

Rei, Lena and Sonnet will leave Hiroshima in early
November to experience Canadian hospitality and
Canadian pre-winter.

Please get in touch with me if you have ideas of good
places to play or people to play with. Or, just to
say hi. I'd love to hear from you.

You can hear some recordings from the dawn of the
secret's rock and roll history at:

http://lenachin.com/Secret/index/thesecret.html
(or if that is too long to type out, try lenachin.com)
(look under "shop" and "cd")

Mata ne! catriona"

Check out the mp3's. I had heard these mp3's maybe a year or two ago and I had forgotten how much I liked the music. Really good indie pop and quite like the pure pop of Plumtree's music. I sure do miss Plumtree. Too bad I don't live on the [Canadian]east coast. Maybe I can schedule a vacation to the east coast around the time of the tour? Hey it's an idea.
My photos of Broken Social Scene from the Olympic Island concert this past weekend. Euphoric to say the least.
Considering how beautiful the weather tonight is, I'm almost regretting not picking up some lawn seats for the Curiosa festival in Toronto. Just hearing Edge 102.1 FM's live broadcast of the concert has me green with envy of all of you there tonight who got to experience "Pictures of You" in all of its live glory...Hey, but then I saw The Cure at Coachella, and no date on the Curiosa tour will EVER top that. HA!