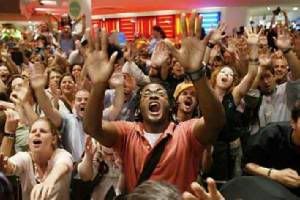 Stereolab
dates supporting
Air
in the U.S. were added to the
tourdates
section of the Stereolab site, with the rest of the Stereolab shows for this year to be added tomorrow. I'm crossing my fingers for a Toronto date!!!
First
flash mobs
. Now
mobile clubbing
. [from
The Globe and Mail
]
As usual, the
CMJ Music Marathon
this year in New York, between October 13-16, looks so amazing. And what better way to ring in autumn! I hope the
Paperbag Records
showcase goes well!
Shaolin Soccer
out on DVD tomorrow! Can't wait to see it.
Zhao Wei
[from
So Close
] is in it.
Hmmm
.
Saturday Looks Good To Me
who are hitting the road with
The Sunshine Fix
, will
likely
be in Hamilton, Ontario on October 21, 2004 at
The Underground
which I'm considering driving down the QEW for. Funny that the Toronto date venue still has not been confirmed yet. By the way, I'm relatively new to the band, and I picked up a used copy of their CD "
All Your Summer Songs
" which is so wonderful. The
Motown
/
Phil Spector
comparisons really ring true. I love the echoe-y sound and tuneful guitar arrangements. Reminds me of
The Aislers Set
alot. And that's a good thing.
So while checking out info on SLGTM, I was browsing the
Polyvinyl Records
site and decided to check out the
Of Montreal page
, from which I surfed to the
official Of Montreal website
where I downloaded some of their
mp3's
. This is a band I've come across in print many times, but never made the effort to check out their music. Wow. I'm really sorry I never checked out their music sooner. It's so vibrant, exhuberant and unabashedly poppy! I'm really glad Of Montreal are
on tour
and will be coming to Toronto on September 25, 2004[venue still TBA].