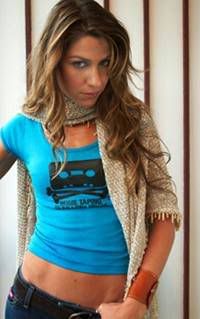 I'm not quite sure what sources Soul Shine Magazine has been getting its information but I came across a couple of interesting news items that aren't even posted on the corresponding band sites as of today:

-> King Cobb Steelie tour dates, including a stop over in Hamilton @ Casba at La Luna on September 17 [I figure a half hour drive or so down the Q.E.W. from Mississauga would be more than worth it to catch the band live]. I'm so far, still planning to see the band at Harbourfront, during the Gobsmacked festival at the end of the month.

-> Jake Fairley, one half of the original lineup of Uncut, will be joining the Paperbag Records roster, with the release of his CD "Touch Not the Cat" on September 3. Mr Fairley apparently left Uncut to pursue a solo career in techno music...also a couple of upcoming tour dates, including a couple in Toronto, September 3 at Revival and September 30 @ Lee's Palace. According to the Paperbag Records site, the gig on the 30th is the 2nd annual Paperbag Records anniversary party, including controller.controller, Magneta Lane, and Jake Fairley.
I'm surprised that the
Ivana Santilli
site has yet to launch since her new CD
"Cordury Boogie"
was just released recently. I just bought it a couple of days ago, and it is totally wicked. 5 years is too long to wait between albums, and the new album fulfills the promise of when she previewed some of these songs when I saw her live at
Harbourfront
last year. Super, sexy and soulful...Don't let
NOW
tell you otherwise.
Matt Good wants his own 'Broken Social Scene'
. [
link from the Broken Social scene forum
]