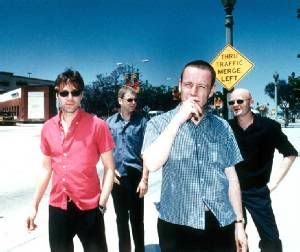 Gene have consistently been underappreciated since the get-go and I'm hoping that they'll finally make their breakthrough when they eventually release their new album. In the meantime, there's been news of a new live DVD as well as a new single to tide us over. I received this e-mail today from the You'll Never Walk Again mailing list devoted to Brit band Gene:


"Hi All,

It's been confirmed today that Gene are looking to release their latest live DVD, filmed at the Sheffield Leadmill earlier this year, in October. Although we're still awaiting confirmation of the full DVD contents, the live track listing will be :

1. Haunted By You
2. This Is Not My Crime
3. We Could Be Kings
4. Stop
5. Yours For The Taking
6. Where Are They Now
7. In Love With Love
8. Baby I'm Sorry
9. Walking In The Shallows
10. Fighting Fit
11. Speak To Me Someone
12. Olympian
13. You'll Never Walk Again
14. Sick Sober & Sorry
15. Be My Light Be My Light
16. Let Me Move On
17. For The Dead

Also on the cards during 2004 (Gene's 10th anniversary year) is a single release - the track has yet to be determined, and what's currently being described as a 'big' show. All very promising, and as ever we'll get you the very latest as soon as we have it!

(walkinthedream)
http://www.lewisslade.com/"


Also of note is that Gene's song "Fighting Fit" was chosen by Morrissey as one of the songs for a CD compilation he put together called "Songs To Save Your Life" which was given away with NME recently.
MP3: Seems Tilly and the Wall are all the rage these days, myself having caught wind of this band at My Indie World and Chromewaves. To add to the whirlwind of [deserved]hype, Of The Record has the band's demo Woo EP available for download, so grab it while you can. Fun, fun, fun!
The Pop Montreal site has a partial list of bands that'll be playing this year's festival. I went with a couple of friends last year, and this year's lineup is, so far, begging me to go again. If anything, it'll give me chance to take pictures of the city this time, since I didn't have a camera last year.