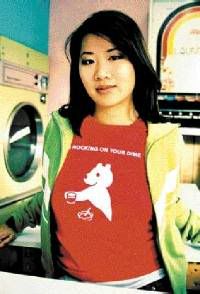 Soul Shine Magazine spotlights Toronto MC Masia One. Eye also gives props to her. She's female and Asian, by the way, and quite the rapper from the video I had seen on Muchmusic. Masia One expresses:

"I've never commodified the fact that I'm female and I'm Asian and I rap. There are lots of female Asian emcees in California and Vancouver," Masia proclaims. "There aren't many to be seen in the mainstream. I don't get why Asian women are commodified as exotic; like China's got the most people in the world - there are a lot of Chinese people. There's nothing exotic about it. I don't understand why."

Umm, pretty much anything outside of North American and Europe, at least in my opinion, is exotic to me. And that is coming from someone of Filipino descent, but born and raised in Canada. Masia One seems to classify 'exotic' in terms quantifiable numbers but in terms of sheer exposure Asian women are 'exotic' because of the unjustifiable underexposure they get in the media, which is a shame. Tanya Kim excepted. (drool) I'm not an avid mainstream music fan but I'm waiting for the great female Asian hope that'll burst onto the North American music scene and give Britney and Christina a run for their money.

ps. Masia One's debut is named "Mississauga", my hometown! A stark contrast to The Hidden Cameras' cheekily titled "Mississauga Goddam".
Check out The Thrills new video for "Whatever Happened To Corey Haim" [link by way of Rocksnob]. I've been on The Thrills tip since going to Coachella this year. And the new single continues along the lines of their Californian country-rock sound, but seems to have taken some influence from their Scottish neighbours Belle and Sebastian, with the glorious string arrangements. The song title's a little cheesy, but I'll forgive them this time. The video itself is also beautifully shot.
And in honour of my sister's wedding tomorrow, check out this discussion forum on wedding songs which I found quite interesting.