concert review: Toots and The Maytals @ Nathan Phillips Square(Toronto, Ontario)][part of the Irie Music Festival], August 1, 2004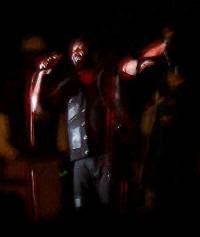 I'm sure this was a highly anticipated show for many in attendance, especially the West Indian/Jamaican segment of the audience. I've grown up in Canada and I am of Filipino descent so reggae is not part of my musical experience, although I've appreciated it for a long time. I myself having only cursory knowledge of the man and his work and my knowledge of reggae and ska pretty much limited to Bob Marley, the two-tone ska movement, and reggae-period Clash, I was actually looking forward to seeing the genuine article live. I remember that I had burned a copy of DISC One of Toots and The Maytals "Time Tough: The Anthology" from a co-worker several years back and the first song of the CD was a tune called "Six and Seven Books of Moses" which was a great early period ska tune. Listening to that CD, it was interesting to hear how Toots and the Maytals evolved from that early ska sound to a more 'soul'-ful reggae sound. You could make some comparisons between the reggae of Toots and The Maytals to Bob Marley, but I've read, and can hear in the music, that Toots' vocal stylings emulated the American soul singers of the 60's. His vocals with the music of the Maytals was just a great combination.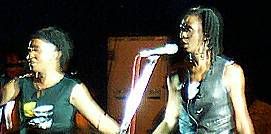 My friend and I got to Nathan Phillips Square before Toots' set started which I had read was suppose to start at 9 pm, but by the time they started it was around 9:40. I'm not sure what the delay was but I was anxious for things to start since it was a workday the next day. Unfortunately, my buddy and I had a pretty crappy view of the stage, and I was unsatisfied with most of my digital camera photos. The only thing left was to feel the vibe of the crowd [sans the smoking of weed mind you] and enjoy the mellow vibes that would be coming our way. When the Maytals, including a couple of female singers which included Toots' daughter, then Toots himself, finally made their way onto the stage, there was finally some relief for the crowd which was getting slightly anxious for the show to start. And a great set all around as it ended up being. There was no "Six and Seven Books of Moses" but at least there were several songs that I was familiar with, which all happened to be songs that I came to know through other artists, like the laid back "Take Me Home Country Roads", originally by John Denver, with the lyrics appropriately changed to "West Jamaica" from "West Virginia", the Toots' penned "Monkey Man" covered by The Specials, and the Toots' penned "Pressure Drop" covered by The Clash. "Monkey Man" was my personal fave of the night, as I'm sure it was for some of the Mods that I could see were in attendance. Later on in the night other highlights included a City of Toronto politician giving Toots a special recognition award for his contribution to reggae music, as well as Toots' encouragement for members of the audience, specifically the women, to come onto the stage to dance for one song. And when the set ended we wanted more but unfortunately a time curfew prevented an encore. Oh well. To summarize...wonderful weather, beautiful people, and beautiful music. What more could you ask for?

ps. Toots and The Maytals recently released a collaborative effort featuring their songs performed with some quality artists like Ryan Adams, Willie Nelson, Ben Harper and Terry Hall. The CD is called "True Love" , and after hearing some samples, I'm sure is worth further listening.
My friend and I had a blast at the Olympic Island concert headlined by Sloan, Sloan even managing to top their club show at last year's Pop Montreal festival! Photos and review to come.
Guilty pleasure of the moment: Hilary Duff featuring Haylie Duff and their version of The Go Go's "Our Lips Are Sealed". No seriously, I'm not kidding.