movie review: The Village [2004]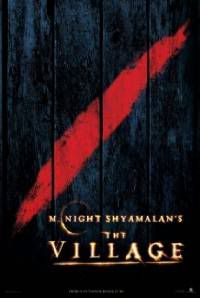 Saw M. Night Shyamalan's The Village yesterday. Apparently, the movie was #1 in North America over the weekend. [Guess it was a slow weekend movie-wise.] Among M. Night Shyamalan's films, its my least favourite but nonetheless I still recommend it. The story revolves around a village of Amish-styled settlers who are victim to 'creatures' from the outer woods that border their community. While the community goes about trying to live a simple life, they also live in fear of these forest creatures. The creatures are such a 'reality' of life that the younger people play a game at night where they stand on a tree stump with their back to the woods and see who can stay the longest without getting scared. There's quite a touching, yet subtle, love story between a vibrant young blind woman named Ivy played by Bryce Dallas Howard, and the humble and modest character of Lucius played by Joaquin Phoenix. It's his near-death circumstances which motivate Ivy to venture outside of the village[something which the elders of the village have forbidden its inhabitants to do], through the forest, in an attempt to get to the 'towns' for 'medicines'. There are several points in the film which are not what they seem, and at times the film felt anti-climatic, but the enjoyment of the film really rests upon its conclusion. Expect the unexpected. It wasn't much of a scary film which the trailers misleadingly pointed towards. That was really fine by me because I'm pretty much a wuss when it comes to horror films[The Ring messed me up really good when I first saw it]. However, as a suspense film it satisfies, but just barely.
A defining moment in my musical upbringing was watching the Live Aid concert on television back in the mid-80's. I was but a child back then. I was pretty much glued to the television for most of the broadcast, and I remember, even then, feeling the enormity of the event. And now it's coming to DVD and will be released on November 1. LAUNCH has more details including a listing of artists featured in the 4-disc set. Relive the memories.
I can't believe this happened in Toronto this morning. Just like in the movies.