concert review: Ben Lee w/ Pony Up, Lindy @ Mod Club Theatre(Toronto, Ontario), September 22, 2004

If you missed the Ben Lee show this past Wednesday in Toronto, well then you missed out. Either it was a show that slipped under the radar or else there wasn't as much interest as I would have thought, but I was surprised that The Mod Club wasn't packed that night. It was adequately filled but not the sort-of frenzy that I was expecting. The venue actually set up tables and chairs in anticipation of Ben Lee's partially-acoustic set. The set-up was more than a little annoying because it prevented myself and others from standing up near the stage which would have likely frayed the nerves of those sitting at tables getting a view of the back of my head. Even more annoying was to see people sitting on the floor, between the tables. Lazy bums.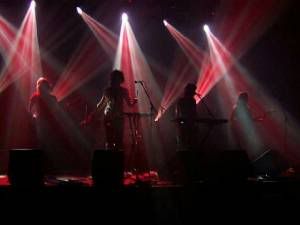 As this was an early show, first opener Lindy came on early, and I missed the set because I had an evening class that night. After class I headed down to The Mod Club, in time to catch all-girl Montreal new wavey-pop band Pony Up. What's in the drinking water in Montreal? I can't believe all the good bands coming from there, The Arcade Fire being the most prominent at the moment. And with the Pop Montreal seeming to come into its own as a music festival after just three years, it's good to know Montreal still has a music scene to fall back on considering the diminishing status of its Film Festival. Pony Up are the first band on Ben Lee's new label Ten Fingers Records for which the first release was a split Ben Lee/Pony Up 7" single where Ben covers the Modest Mouse single "Float On" and Pony Up peform the song "Heard You Got Action". I'm biased because cute girl bands are already a plus in my books, but Pony Up got the tunes to back it up. The band has a undeniable new wave influence that melds quite nicely with their brand of indie-pop/rock. I was quite impressed with their songs which lingered around pretty melodies and solid instrumentation. The intrumentation was fairly straightforward, with solid, uncluttered drumming, uncomplicated basslines, and clean guitar arrangements. The vocals were stark, and never overly girl-y. The xylophone and accordion were a nice addition to the fold. Given the fact that the band is comprised of a group of attractive young females, there is an androgyny to their music that keeps the music being sickly sweet or overly testerone-fueled. The middleground is nice territory. I bought their split 7"(which I got Ben Lee to autograph at the end of the night) after their set and asked one of the girls in the band if they had a CD yet and she said they'll be releasing a CD on the Ten Fingers Records label in January of 2005. Circle your calendars.

By the way, what was with the smoke machine night? The amount of smoke billowing out of the machine was just too much for liking, and it pretty much cast a hazy gaze over the stage which was none too pleasant especially for photo-taking. The lighting effects were however way cool, particulary seeing the band in silhouette (although considering how cute they all were, I would have preferred a less obstructive view of them!)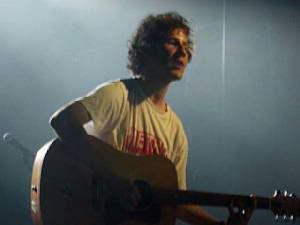 After the usual between-set wait, Ben Lee sauntered onto the dimly-lit stage with his acoustic guitar. I thought for a second he was a roadie. It's surprising how much the 'dude's shot up in height. He's also chosen to grow a shaggy head of hair. He's not the scrawny kid we all remember him to be. Although, considering he'll be 26 years old in November of this year, his appearance still gives off a youthful vibe. However, Ben Lee's live performance that night showed that he's grown in to a confident performer, able to keep the audience at bay/entertained with his stage banter on one hand and, on the other hand, displaying his musical prowess both through his solid guitar accompaniement and his smooth vocals. I've only had his solo CD "Grandpaw Would" and his Noise Addict CD "Meet The Real You" and have only ever been partially familiar with the songs, so in reality, that night was like hearing Ben Lee for the first time. So I knew, "Away with the Pixies"(which I LOVE) and "Pop Queen" which Ben both played during the encore, in a band setting that gave the songs a fuller sound than the CD versions. It was interesting to see Ben alternate between peforming as a duo(with an attractive female friend of his on keyboards), then perform as a band(with some of the girls from Pony Up), then peform his solo folky troubadour thing. It was all good. His songs are lyrically full of love, loss, and humour, but most of all hope. So when Ben ended the night and his encore by putting off his mic, monitors and amps and played his last song without the benefit of the sound filling the room, there was something very 'naked', very honest about him. To hear him continually utter the phrase "We are all in this together" as he lightly strummed his guitar to a room so quiet you could hear the air-conditioning unit humming in the background, was magical.