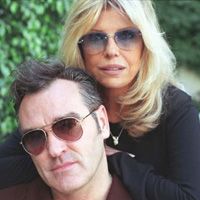 The International Herald Tribune
reports on
Nancy Sinatra
's indie-rock comeback. Her new self-titled album featuring collaborations with artists as diverse as Morrissey, Calexico, Jon Spencer, Thurston Moore, Jarvis Cocker, and U2, looks like a real keeper. The new album was just released today! Check it out at
Amazon.ca
.
Tiny Mix Tapes
reports that
Death Cab for Cutie
have added more tour dates to their schedule...no Toronto date, OF COURSE! ...You guys suck.(ok, I didn't mean it...just come back to Toronto PLEASE! PRETTY PLEASE!)
chartattack
reports that the release date for
Rufus Wainwright
's
"Want Two"
will be November 16, 2004. It was recorded at the same time as
"Want One"
, and of interest,
"Want Two"
will include a DVD featuring 20 live tracks from a concert in San Francisco. The CD will include the four tracks that Wainwright released in June as an
iTunes
exclusive EP and will also include eight previously unreleased songs.
More cross-canada tour dates are up at the
King Cobb Steelie
site, with the lads at Sneaky Dee's in Toronto on November 7, 2004 for a post-tour party at
Wavelength
.
The
Trashcan Sinatras
have an
e-card
which features four streaming songs from the
weightlifting
album ("
welcome back
", "
all the dark horses
", "
freetime
" and "
weightlifting
") and a streaming video ("
it's a miracle
") from the
weightlifting [deluxe release]
. See and hear what you've been missing.
The news update dated September 23, 2004 at
Ted Leo
's site is particularly interesting as Ted Leo defends himself against a website that got all pissy at him for bailing on an interview he promised them but never got around to doing. Some people are so sensitive. By the way, anyone know the site in particular because Ted's not telling.