...Mysterious computer problems plagued my Internet connection yesterday which neither I nor
Rogers
tech support could remedy but with glee I found that my 'net connection was working perfectly this morning! Noticed that
Yahoo
has changed it's main page interface slightly, noticably in the size of the font of the text. What gives?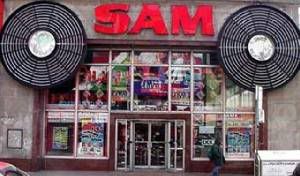 I'm working at the DOWNTOWN office of my employer[the Ontario government] again which is like putting a crack addict in the middle of a crackhouse. Being in the vicinity of the flagship stores of Sam The Record Man, HMV, and Sunrise is too good to be true! Today's music releases are mighty tempting including releases from Paul Weller, Pete Elkas, The Thrills, and The Arcade Fire. But it's pissing me off that the ones I want to buy are never the discounted new releases ie. the CD's priced at $12.99 or less. [Okay recently Futureshop has[had?] The Libertines new CD for $12.99, but other than that I don't come across the new releases I want to buy, for that price]. But on tap for today, I picked up at HMV, 2 CD's for $25.00, including The Cure's "Disintegration" and The Organ's "Grab That Gun"!
Mishie DJ's a great Indie Shop Radio set! I caught a good portion of it online tonight and am reeling with all the wonderful music I heard. And she'll be doing a university radio show starting next week, and it will be available in streaming format on the 'net, so check it out, which I'm hoping to do during work hours. ;-)
Up at the official band site, Constantines' tourdates, from Sept 24 to Oct 3, starting in the east coast[of Canada] and leading back to Ontario...although nothing in Toronto unfortunately.
Metric's live performance of "combat baby" and "dead disco" will air on ZeD TV in canada on October 4th at 11:25 pm on CBC. [info cut and paste from Metric's site.]


Team Canada wins the World Cup of Hockey. Congrats!