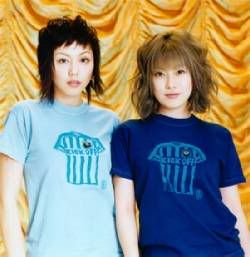 Puffy Amiyumi have annouced a 3-city U.S. tour as follows:

->October 8, 2004 - NEW YORK
Webster Hall, 125 East Eleventh St.

->October 10, 2004 - LOS ANGELES
House of Blues, 8430 Sunset Blvd., West Hollywood

->October 11, 2004 - SAN FRANCISCO
Fillmore, 1805 Geary Blvd.

I can only hope the gals come back to Canada, and Toronto in particular. Their music is such a delectable mix of all types of music, from Beatle-esque pop, to swing, to punk, to Who-styled rock, and so on. My friend and I caught their last show in Toronto @ The Opera House[which by the way was the final stop on their last tour] and it was such a blast! And Puffy Amiyumi [along with Sloan, and The Weekend] is one of the few bands I've successfully converted my friend to, so that's saying something about them. [ok, it doesn't hurt that they're a couple of cute Japanese girls. ;-) ]
There's a brief Buck 65 interview over at the beat surrender.
They may be shamelessly copying are favourite New Order, Joy Division and Cure records, and even more shamelessly vying for mainstream success in the alternative music scene, but when The Killers can write a song so infectiously catchy as "Change Your Mind", I don't give a fuck. [Yes, after teeter-tottering on whether to purchase The Killer's "Hot Fuss", I finally gave in and bought it, partly due to their single "Somebody Told Me" playing on Edge 102.1 FM ten times a day, and the $9.99 sale price of the CD at Best Buy Canada over the weekend didn't hurt either.]