concert review: King Cobb Steelie @ Harbourfront (Toronto, Ontario), part of Gobsmacked festival, Sunday August 29, 2004, 4:30 pm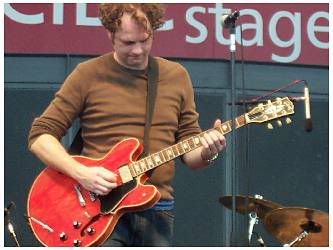 After a couple of days of stellar concerts at Harbourfront for the Gobsmacked festival, it was nice to wrap up the weekend with a performance from Guelph's very own King Cobb Steelie who were playing an afternoon show to wrap up the festival. Considering the packed and near-packed audiences for the Broken Social Scene and Hidden Cameras shows respectively, it was kind of a letdown that more people didn't come out for the King Cobb Steelie show; maybe it was the rain, but hey, that didn't stop me. King Cobb Steelie are definitely unique, carving out its own niche in the Canadian music scene with its brand of groove-based, dub influenced, funk-rock music. The band played a stellar set at Harbourfront this past Sunday with songs, mostly instrumental, ranging from funk-based jams, to dub-influenced soundscapes, to Gang of Four-ish funk-rock workouts, with at least one vocal dub-based rock tune("Rational" from "Junior Relaxer") thrown in for good measure. Most of the songs I didn't recognize so I was assuming that most of the songs were from their new CD "Destroy All Codes", which I purchased after the show at the merchandise kiosk. I don't remember the band playing anything off "Mayday" which is a shame because, in my opinion, I think it is their masterpiece. I was a little disappointed that there was only one song with vocals on the new CD, in comparison to "Mayday" which was very much vocal based, and all the better for it. I was also disappointed that the band hadn't performed more songs with vocals at Harbourfront; I was hoping that Tamara Williamson, who sang on "Mayday", would have made it down to the show to peform since she had performed in Toronto at the Rivoli just a couple of nights before. Otherwise, the band's extended jams frequently achieved almost hypnotic states as throbbing basslines, and almost-tribal percussion and drumming sounds rippled through the venue.

The band, whose gone through numerous lineup changes, remains at its core, Kevan Byrne and Kevin Lynn, the founders of the band, with a rotating lineup of additional musicians. The website says it's been about 15 years that the band's been around in one form or another and I've been a fan of the band since at least the mid-nineties. In my books, they are a Canadian institution.
Speaking of Tamara Williamson, she posted on her web site a Quicktime video for a Fred Eaglesmith song she recorded on her own for fun up at her farm. The video was shot up at her farm and on the drive into Toronto, over the 25th and 26th of August 2004. The song has a rustic, solemn, stripped-down quality to it, like Johnny Cash's "The Man Comes Around" and Tamara Williamson's vocals just ache with passion.
The Dears have sold out to the man! I just heard The Dears' "This is a Broadcast" in a Sola-Nero commercial. ...Well, at least they aren't hockin' cars or some other random product. And at least it's not a beer commercial.
controller.controller have done a redesign of their website. Quite nice if I may say so!