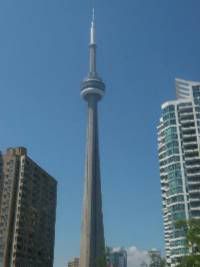 Are you coming to Toronto for vacation? Besides all the tourist-y things you'll be doing likely taking pictures[ad nauseum] of the
CN Tower
and
City Hall
at Nathan Phillips Square, you'll also want to do some shopping while you're here, right? The most recent issue of
NOW
presents it's guide to cheap shopping in Toronto! I probably haven't been to about half of these places since I live in the suburbs of Mississauga(just outside of Toronto) but a cursory glance of
NOW
's picks reveals some places I haven't heard of before, like some of the
record stores
.
According to
chartattack
,
Joel Plaskett
's releasing a new solo CD soon, without The Emergency, and also had planned to film a live DVD at The Marquee Club in Halifax on September 17(yesterday). There were rumours that the two-set performance was to have some special guest...Anyone in Halifax go to this yesterday? Please tell!
Yahoo
repots that ex-
Fine Young Cannibals
David Steele has found a a vocalist for his U.K.-based neo-soul act Fried. It is 24-year-old ex-gospel singer Jonte Short who Steele met two years ago, when Short was performing at a club in her hometown of New Orleans. I'm particularly excited because Fried's new CD features a guest appearance by Portishead vocalist
Beth Gibbons
!...Fried apparently have not made it to North America yet, but check out the CD review at
Amazon.co.uk
.
Purchased my ticket for the
PJ Harvey
show(happening on October 15 at the Phoenix in Toronto) through
Tickemaster.ca
yesterday. (Yes, I've accepted the fact that I won't be able to get a trip together[ie. getting friends to go, making arrangements, what-have-you] to go to the
CMJ Music Marathon
this year, but I'll have to compensate by going to a shitload of shows in Toronto in October!)